Friday, September 1, 2017
Daniel Arts Center - Hillman-Jackson Gallery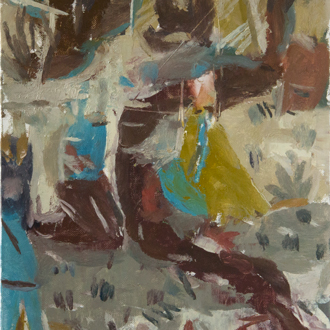 Bard College at Simon's Rock presents Fortune [Teller] Chatter, featuring award-winning artists Sangram Majumdar, Dominic Terlizzi, and Karla Wozniak, from August 28 through October 30. Located in the Daniel Arts Center's Hillman-Jackson Gallery, the exhibit is open to the public daily while the college is in session.
A panel discussion with the artists and a reception will be held on Saturday, September 30 from 5 p.m. to 6 p.m.
Organized by Jacob Fossum, a painter and Simon's Rock faculty in the arts, this painting exhibition explores how each artist creates overlapping stories and mysteries in their work. Both Fortune Teller and Chatter Box are names for an origami-like, geometric paper toy used to code sensitive information in playful ways. The Fortune Teller/Chatter Box is an object with utility for fortune seekers, game players, and adventurers. The novelty of this transformational medium reveals unknown possibilities. It is animated by a viewer's request for information and its results are contingent on rules, layers, and combinations playing out as planned by the designer/architect of its content.
The pieces in Fortune Teller Chatter involve direct engagement with paint and are playfully idiosyncratic. They take time to decode and discover. This layering encourages detours and journeys. These three artists are less interested in the notion of painting as container or window, instead viewing their process as a handmade game that is both structured and playful.
Sangram Majumdar is a Brooklyn-based artist who works from found imagery, materials, and structures. His paintings are echoes of objects, places and people seen obliquely and slightly removed.
Dominic Terlizzi is a Baltimore-based artist who builds mosaic surfaces from cast paint textures. These casts are from found objects related to a base object lexicon rooted in human history. Surface textures and color codes allow for figurative moments within an abstract scaffold.
Karla Wozniak is a San Francisco Bay Area artist whose paintings are filled with idiosyncratic marks and exuberant color. Domestic spaces and objects coexist with--and are transformed by--frenetic abstraction, creating psychological spaces filled with anxiety and humor.