Commitment, Collaboration Backbone of Fall Student Production, Henry V
Performing a William Shakespeare play can be daunting, but not for students in Aimée Michel's theater class at Bard College at Simon's Rock, who are seriously committed, and have worked collaboratively to present the fall production of Henry V.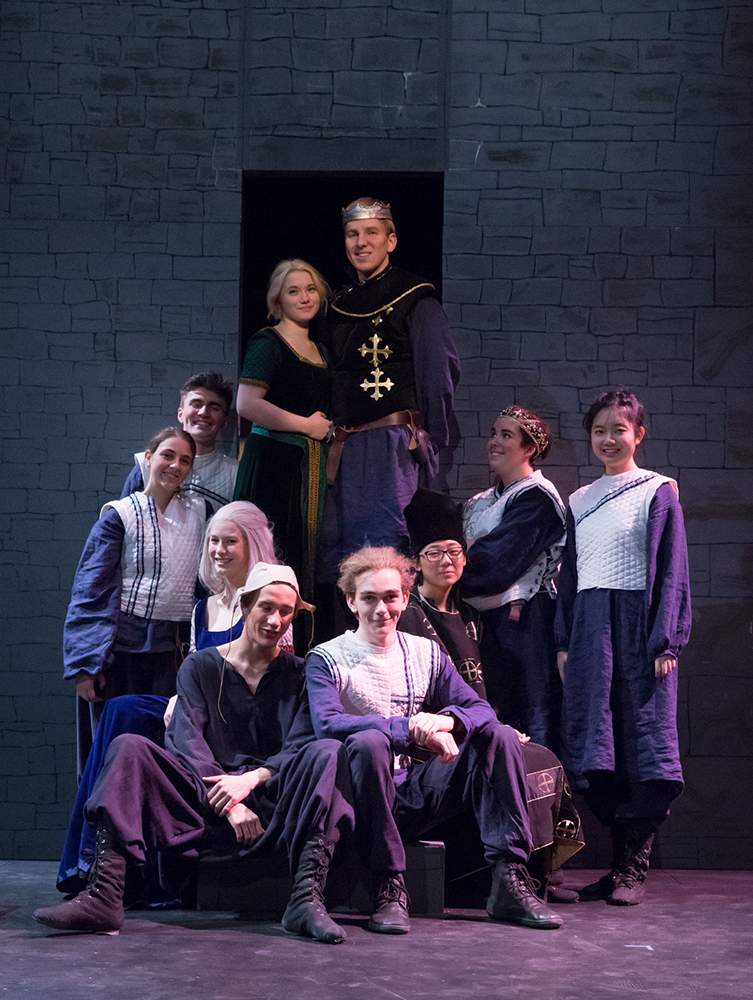 Henry V is one of Shakespeare's most well-known and well-loved histories, Aimée offers, and is traditionally revived when nations are at war; when there is a need to define what a leader is. Reflecting on this current time of turmoil, Aimée—who has been teaching at Simon's Rock for 11 years, and is well-versed in Shakespeare—turned to this play as a response to the eternal question, "What makes a good leader?"
Six sophomores, three juniors, and two seniors attempted to answer this question through the words of Shakespeare in four free performances November 9-11 in the McConnell Theater at the Daniel Arts Center. The public was invited to attend.
A serious commitment
Henry V was performed by sophomores Lily Berlstein, Isabelle Long, Matthew Meehan, Zoe Nadig, Xindi "Alena" Zhang, and Gabriel Albano; juniors Emmett Clarendon and Corinne Stanley; and seniors Jaimee De Witt and Georges Pichard. Julia Mendez, a junior, was the stage manager.
Additional technical crew included students Fanta Ballo, Indie Beare, Nathaniel Bokaer-Smith, Cleo Hardt, Doph Steinmayer, Maisy Swords, Charlotte Wade, and Tobias Walker, as well as students from the costume and prop design class, and lighting design class.
Since students are required to take at least one theater course and to audition before being considered for the production, Aimée, as well as fellow theater professor Karen Beaumont—who directs the spring production in the Black Box Theater—get to know the students. Before she casts, Aimée advises students "to recognize it's going to be a serious commitment."
Work began in earnest over the summer, when Aimée assigned all the students to read the Henry V. She assigned roles to 10 of her students, each of whom will be playing two roles. They were also required to watch one of three film versions of the play.
All this work early on inspires the students to get to know their characters, to "know the journey." Aimée tells her students: "You have to create this character." She teaches the students to invest in their characters, which results in a much more authentic presentation.
In the beginning of the semester, the students dedicate, weekly, three hours of class time and three hours of lab time to the production, in addition to their regular course load. When they return from fall break, they rehearse an additional 10 hours per week.
The students often front load their work in other classes before break in anticipation of their active production schedule upon their return. Aimée requires students to keep up with their academic work while in rehearsal, but also appreciates that "the faculty understands this commitment and works with the students." This busy workload requires that the students learn to manage their time and responsibilities. Once the production closes, the students are able to focus on their other courses until the end of the semester.
A collaborative process
For Aimée, "Theater is about collaboration," and at Simon's Rock, this is applied in every aspect of every production.
In Shakespeare's time, Henry V was performed over four hours, with four intermissions, and lots of repetition. For the student production, Aimée cut the repetition out to shorten the play. "We had to create our own version," which was presented in 90 minutes, with no intermission.
Aimée's approach with each production is not to direct at the students, but with the students. The students are encouraged to be vocal about what lines work and don't, where they should stand or sit during a scene, and how they should emote. The students were involved in shaping their own roles as the production evolved.
"It's a collaborative process."

-Aimée Michel,
Associate Professor of Theater, Bard College at Simon's Rock

There is also collaboration among the talented crew behind the scenes. For this production, set and lighting was by John Musall, costume design was by George Veale, sound design was by Galen Wade, production design was by Izzy Filkins, and Caitlin Teeley was the production manager.
Simon's Rock also collaborates with theater organizations in the region and has brought in outside directors for past productions. Henry V involves choreographed fights, so the students took a stage combat class this semester with Doug Seldin from Shakespeare & Company. Aimée noted that like Shakespeare's words, stage fighting became a part of their vocabulary.
Students often intern or participate in workshops with Shakespeare & Company, as well as with Barrington Stage Company and Berkshire Theater Group, among others. "We have a great collaboratory relationship" with other theater organizations.
Even as the learning environment changes from classroom to stage, the students are continually engaged. During rehearsals, they converse about the history and geography of the play, and their characters. Aimée watches proudly as the students tap into Shakespeare, adding that they learn how to articulate. Some students had to learn to speak French for some of the scenes.
Aimée connects theater to athletics: Each team member is part of something bigger than themselves, and through teamwork, a successful end results can often be achieved. Working together also helps build personal self-esteem. She did add that to drive the theme of the play home, Henry V needs to have a good chorus (played by Jaimee) and a good Henry (played by Georges).
What excites Aimée, aside from working with the students, is learning that students who have come through the theater program at Simon's Rock continue on in the theater arts, either as a vocation or avocation.