The Simon's Rock dance program encourages each student to understand movement as a form of personal expression, a kinesthetic experience, a cultural and historical phenomenon, and as a subject of aesthetic analysis.
The concentration is designed for students interested in exploring and analyzing dance from any of the following perspectives: As a performance art, a reflection of a culture and a historical period, as a form of therapy, as an anatomical activity, or in relation to and in combination with other arts. Students are required to take classes that foster creativity, expand movement vocabulary, improve technical skills, and provide tools with which to describe dance formally. Dance concerts at the end of each semester in the Daniel Arts Center's McConnell Theater provide opportunities for choreographers, performers, composers, theater technicians, and costume and lighting designers. In addition, students may organize their own performances in the Dance Studio, the Liebowitz Black Box Theater, and the performance space in the Livingston Hall Student Union.
Related Career Paths
Students in the dance concentration may enter into fields and positions such as choreography, performance art, dance therapy, and education.
Curriculum
A minimum of 26 credits is required to complete the dance concentration. Prior to moderation students must have completed or be in the process of completing Dance Fundamentals I which encompasses not only basic movement technique but also introduce students to dance history and culture. Additionally, students must take Dance Fundamentals II, a minimum of four semesters combined of Modern Dance Technique, Ballet Technique, and/or Flamenco Dance at the 200/300 level, three semesters of Dance Composition and one theater course. All students who have a concentration or compliment in dance must attend Dance Concert Workshop and they are expected to be major participants in at least four dance concerts.
Course Spotlight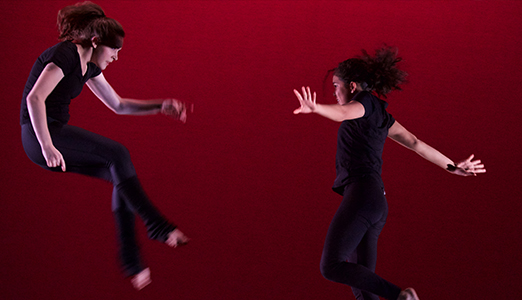 Dance 130/131/230/231: Dance Composition
Develop basic principles of dance composition through themed improvisations, solo choreographies, and group composition. Students learn to be critically aware of their own work and develop effective communication skills when analyzing and critiquing the work of others. Readings, viewings, and attendance of on-campus events supplement class projects.