Each of the three areas within the studio arts concentration—ceramics, drawing and painting, and photography—has common studio foundation and art history requirements.
All students concentrating in the studio arts must take at least two introductory (100-level) studio arts courses from the following areas: drawing/painting, 3D arts (ceramics, sculpture), and the lens-based arts (film, photography); students must also complete at least one art history courses. It is recommended that a student should have completed (or be enrolled in) at least two of the studio foundations courses and one art history survey course at the time of moderation.
Related Career paths
A concentration studio arts offers a variety of career opportunities in fields including artist, painter, sculptor, graphic artist, illustrator, art teacher, graphic designer, art therapist, commercial artist, art gallery owner, art critic, cartoonist, curator, and interior decorator.
Curriculum
Learn more about the three areas within the Studio Arts concentration:
Senior Thesis Exhibitions
Most Studio Arts thesis projects consist of a significant written component and thesis exhibition, which the student designs, installs, and documents, at one of the galleries on campus.
Course Spotlight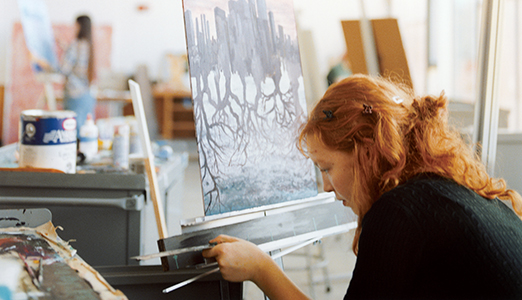 Studio Art 335: Painting Studio
Students explore materials, techniques, painting styles, and color theory. Painting with acrylics is emphasized, though students may also work in oils and are urged to work also in watercolor, pastel, casein, oil pastel, and all drawing media. The course requires an extensive sketchbook, the completion of major projects, and additional work to be established with the instructor. Studio fee. Gesso, lumber, and some materials are supplied; students supply paints, brushes, and canvas. Prerequisite: Permission of the instructor.