>
>
>
Homeschool Students
Simon's Rock welcomes applications from students who have been home schooled.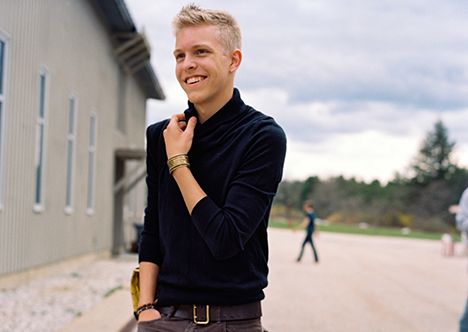 Homeschool students typically demonstrate the initiative, love of learning, and active engagement in their own educational process that characterize our campus culture. You'll find other self-motivated peers and the support you'll need to adapt and succeed at Simon's Rock.
Homeschool Application Guidelines
You'll use the same application form and follow the most of the general application guidelines, but the supplemental material and special considerations listed below will give us a better understanding of the work you've been doing.
You'll also need to complete the Home School Report in lieu of the Secondary School Report.
Transcripts & Curricular Information
If you've completed courses online through a home school umbrella program or an accredited college or university; or at a local high school, college, or university, official transcripts should be provided.
For the years of high school and/or subject areas for which there is no official transcript, responsibility for documenting the course of study rests with the applicant. Home schooled applicants should provide the following:
A detailed outline of the home school curriculum, including subject areas studied, level of instruction, time spent on each discipline, texts read, work produced, and assessment of performance or grade.
A short narrative, written by the person other than yourself who has been most responsible for your overall academic program, providing a summary of your instruction in recent years.
Optional: you may wish to submit a comprehensive list of the books you have read during the high school years outside of your formal homeschool curriculum.
Recommendations
Two recommendations written by individuals outside of your family. We prefer two academic references; if this is not possible, the letters should come from people who know you as a student and person beyond your household, and preferably in a teaching and learning setting. This could include a music or art instructor; an athletic coach; a member of the clergy; or a job supervisor. You are also welcome to submit an additional recommendation written by a parent or guardian.
Submitting Additional Work & Scores (Optional)
Home schooled students may wish to submit additional writing samples beyond the required application essays. This can help to demonstrate the breadth and depth of the student's knowledge and thinking in these subject areas.
While we do not require standardized test scores of our applicants, we strongly encourage home schooled students to submit scores from any standardized test they have taken—e.g. AP, IB, ACT, PLAN, PSAT, SAT, or SAT Subject Tests.