Wellness Center
Health Services is part of the Wellness Center at Simon's Rock, which also includes Counseling Services, reflecting our integrated approach to student care. Our mission is to enhance the academic environment of the college by making quality medical services available to students.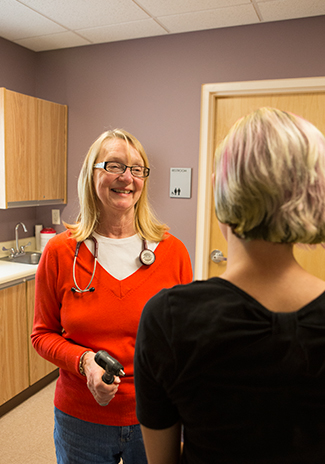 Our staff of experienced nurses and a campus physician is available to help students maintain optimum health while attending Simon's Rock. We offer support and education to students, allowing them to transition from living at home to living apart from family and helping them access healthcare.
Schedule
It's easy to get the care you need, simply stop by during office hours.
Hours
Monday-Friday, 9 a.m.-5 p.m. when school is in session.
Walk-ins are welcome
During office hours, an appointment is not needed
On Call After Hours
Nurses are on call, with physician backup, nights and weekends during the school year for urgent medical care needs. Contacting the on-duty residence director or Campus Safety at ext. 7291.
No problem or health concern is too small. We encourage all students to stop by and learn what we have to offer. If necessary, we'll arrange transportation to off-campus appointments through the local taxi company and the charge will be billed home.
Emergency
Hospital
Fairview Hospital
29 Lewis Ave.
Great Barrington.
Fairview hospital provides emergency services and is a 5 minute drive from campus.
Contact
Call 0 or extension 7291 to contact emergency services.
If there is no answer, call 911, then notify Campus Safety at extension 7291 or an RD.
Policy
Emergency responders from off campus need to be met and led to the person or area of the emergency.
It is a policy of Bard College at Simon's Rock that parents/guardians will be notified of any Emergency Room admission or hospitalization with the exception of sexual assault of a student over the age of 18.