Achievements and Work
Rockers push boundaries, take risks and distinguish themselves by tackling big, interesting, interdisciplinary projects. They're an impressive bunch that doesn't wait until after graduation to make an impact.
In the gallery, in the lab, in poem cycles and academic papers, fieldwork and filmmaking, Rockers discover how much there is to gain from stepping up and standing out. All our seniors complete a year-long thesis project, but there are plenty of other opportunities for independent and collaborative exploration, including summer research programs, internships, guided mentorship and tutorials, and study abroad.

The bottom line? When Rockers put their talents and passion into action — great things happen. Here's a sample.
Rockers Make their Mark with Original Research
Rockers are some of the youngest published students in the world. In August 2018, six students presented their research at conferences.

Tate Coleman '18 presented a public transit proposal to the Great Barrington community and built support for expanded service and decreased travel times in the southern part of Berkshire County.

Eric Yi '16 and Samantha Statter '16 joined professors Eric Kramer and Donald McClelland, and Joseph Carlson of the Joint Genome Institute, as co-authors of an academic research paper that provides new insights into one of the big mysteries in forest ecology.
An Intern Investigates International Publishing
Cindy Li '13 spent the summer helping the CEO of an international publisher from their Beijing office.
Senior Theses Merge Theory and Art
Patricia A. V. Sendão '11 drew on her concentrations in geography and ceramics and to complete the thesis "Fowl Heartburn: A Study of Tiles and Fire," an understanding of the fire regimes occurring within Portugal through the creation and presentation of tiles inspired by the traditional Portuguese practice of azulejo.

Gigi Janko '16, completed "Sports Medicine," a thesis exhibition defined by post-meaningful gestures in sculpture, photography, dance, text, performance, tennis, and the thermodynamic byproduct.

Danielle Pendleton '14 wrote the script, scored the music, directed the production, and starred in her own musical, "A Heart Knows When It's Come Home," informed by psychological studies on long-distance relationships.
Graduates Turn Interests into Achievements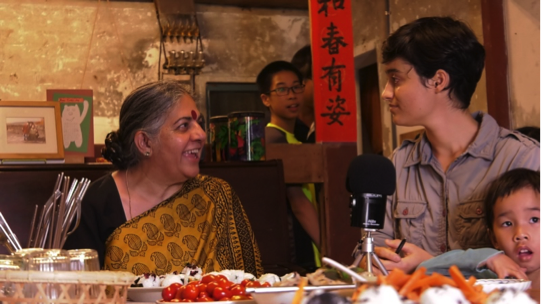 Joelle Chevrier '08 interviews scholar and activist Vandana Shiva
There's a strong legacy of Fulbright Scholars at Simon's Rock. Roommates Marissa Benitez '11 and Zara Zara Anwarzai '11 joined the Fulbright ranks in 2015—together, of course.
Veronica Chambers '87 recently won a James Beard Media Award for her book Between Harlem and Heaven: Afro-Asian-American Cooking for Big Nights, Weeknights, and Every Day.
Joelle Chevrier '08 lives in Taiwan and works as a translator and farmer. She and her wife help give voice to members of the farming community. At Simon's Rock, she studied Chinese Language and Asian Studies.
Meghan Kirksey '94 is a medical researcher actively involved in clinical and database research to elucidate physiologic and clinical determinants of postoperative outcomes.