12-year-old sophomore Adrian Romoff makes Lincoln Center debut
Adrian Romoff, a 12-year-old piano prodigy, took a break from his sophomore studies at Bard College at Simon's Rock to make his debut at Lincoln Center September 16.
In a concert presented by the American Classical Orchestra, Adrian—who has been playing the piano since age 4—performed Felix Mendelssohn's Piano Concerto No. 1 in G minor on fortepiano. "I love this concerto and look forward to performing it with such an amazing orchestra."
The fortepiano Adrian played Saturday, September 16, 2017 was handcrafted by Rodney Regier in Maine. Adrian and his mother, Olga, have been making weekend trips to Maine for months so he could practice on this fortepiano.
Adrian finished high school at the age of 11 and is one of the youngest students to attend Simon's Rock. He is concentrating in pre-engineering and computer science, with a slight possibility he may concentrate in pre-med. Adrian is thinking about the dual degree engineering program with Columbia University. "I like that Simon's Rock has that opportunity."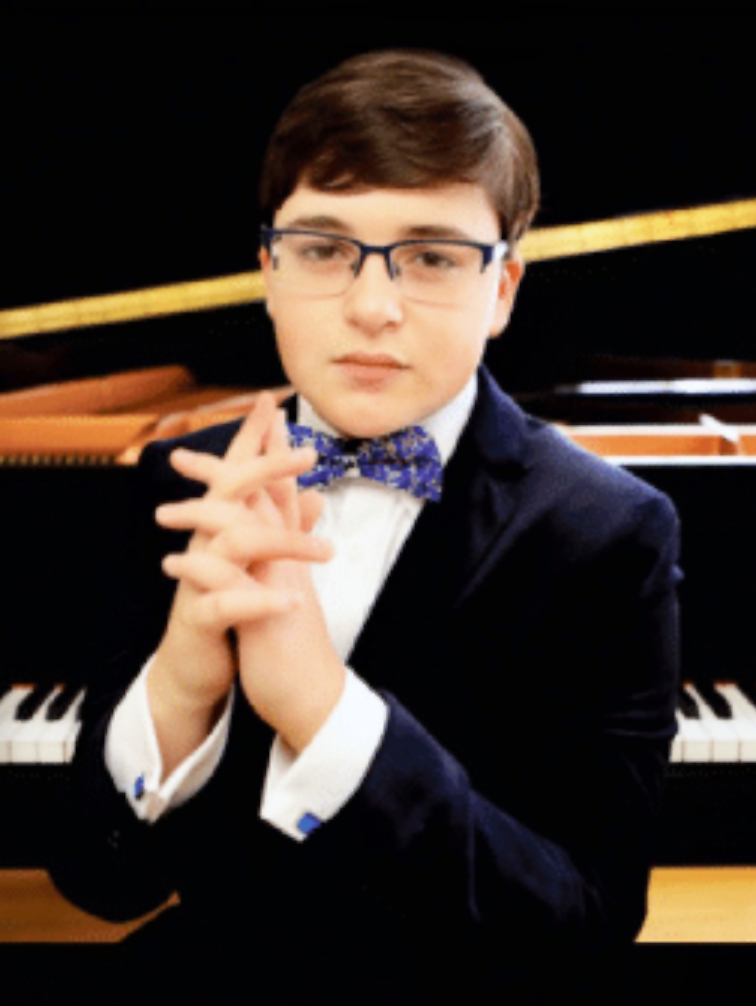 Adrian is looking forward to all of his classes this semester, especially History of Video Games. Already fluent in Russian, Adrian took French his first year and this year, has added Chinese.
In his first year at Simon's Rock, Adrian had to find a balance between his academic and musical studies. His first-year advisor, Anne O'Dwyer, said "he faced particular challenges not because of his young age, but because of his need and desire to balance full-time college studies with a significant time commitment to his music study away from campus."
Anne and Adrian developed a schedule that worked for him. "Adrian worked to find a balance that was doable with the same positive energy that I've seen in so many of our first-year students who find themselves, often for the first time, among others who share their love of learning."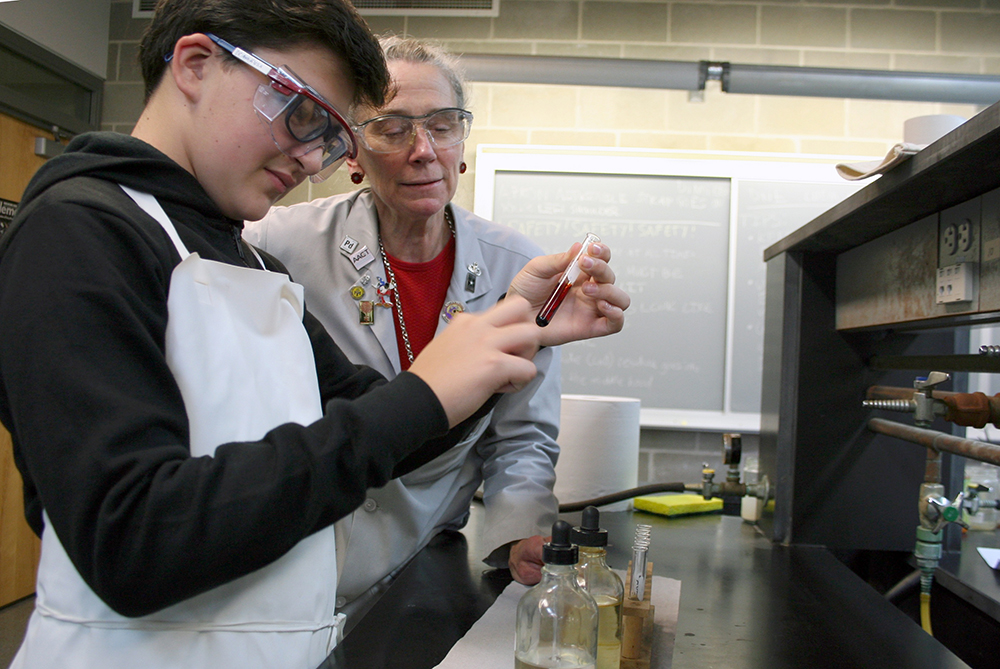 Adrian and Patty in the chemistry lab at Simon's Rock.
Adrian studied chemistry his first year and loved his lab with Professor Patricia Dooley, who is now his academic advisor. When he wasn't doing homework or practicing his music, Adrian would stop by the chemistry lab.
Patty has provided Adrian the best advice. Her "words of wisdom are insightful and super helpful" and she really has a knack for putting things into perspective. "Our conversations are some of the things I look most forward to during college."
His first day in the lab, Patty recognized that Adrian was ready to engage. His absolute knowledge and adherence to curiosity signified to Patty that "Adrian belongs here."
"I am very lucky to be in an amazing school like Simon's Rock, and to collaborate with wonderful professors and great friends. I am glad the college believed in me to give me the opportunity to continue my education and my passion for the never-ending accumulation of knowledge."
Adrian has displayed his talent on the Ellen Degeneres Show and The Queen Latifah Show, performed with the Zac Brown Band at Fenway Park in Boston, and appeared in Anchorman 2 with Will Ferrell. Adrian made a guest appearance on the German television show Superkids, and in 2016, won Child Genius on the Lifetime Network. At the age of 9, Adrian auditioned for the ninth season of America's Got Talent; his audition was the first one televised that season. He made it all the way to the quarterfinals.
In Fayette County, Georgia, where Adrian graduated high school, the board of commissioners designated May 26, 2016 Adrian Romoff Day.