Advising
At Simon's Rock, you'll have an advisor on your side from day one
Advising is different here. It's not an administrative formality. It's a deep, meaningful and ongoing conversation with someone who is invested in you.
When you arrive at Simon's Rock, you'll meet right away with a member of the faculty or staff who will serve as your advisor. And you'll continue to meet with them every week for your first semester, and regularly in the weeks, months, and years that follow—both in formal and informal settings. What will you talk about? Well, everything.
"There's a whole network of people here to make sure that the student—the whole student—is doing well."

-Francisca Oyogoa,
Faculty in the Division of Social Studies, Bard College at Simon's Rock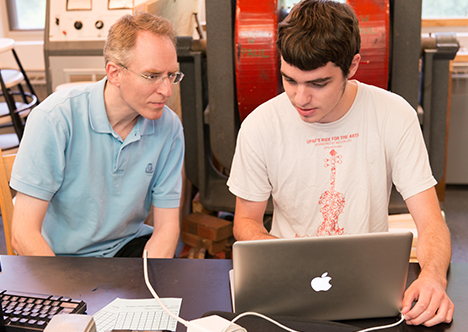 Sure, you'll get help working out a course schedule that works for you (actually works for you—your intellectual passions and future plans, not just your calendar). Your advisor will connect you with the resources you need to stay organized and succeed in your classes, and keep you on track to meet deadlines for enrolling in signature program or study away opportunities. But you'll also talk about the book you're reading, your weekend hiking trip, the film you and your friends can't stop raving about, or that one dessert in the dining hall you both love.
Serious advising, real conversation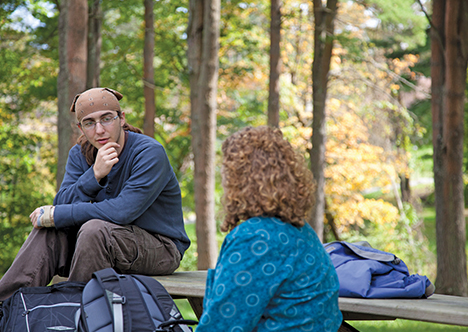 Your advisor will really know you. They'll understand where you're coming from, and what matters to you, so they can help you make decisions that will help you get where you're going. You can change advisors as you get to know faculty more closely or when you choose a concentration, and you'll pick a thesis advisor as you transition to the BA. They're going to be key players on your team during your Sophomore Planning and Moderation, helping you evaluate your options and plan your personalized course of study. It's a powerful thing to know there's someone on your side. That's just one of the benefits of being part of a close community that is serious about helping each other.
Learn more about academic advising and support.