Gender studies is an interdisciplinary program for students who wish to explore the complex questions raised by the intersecting analyses of feminist, queer, postcolonial, and critical race theory across academic fields as diverse as literature, sociology, psychology, history, anthropology, linguistics, law, cultural studies, and the arts, in American as well as global societies.
Committed to the significance of women's experiences, gender studies is at the same time inclusive of varied perspectives, including homosexual, transgender, and queer. Its goal is to produce an enriched conception of the human that appreciates the diversity of our experiences, behaviors, and cultural backgrounds. Through coursework, students develop expertise in areas such as feminist theory and activism, including civil and human rights; historical and cross-cultural understandings of the sexed body; women's contributions to the arts and literature; and the intersection of gender with race, class, and sexual orientation in American and global contexts.
Related Career Paths
Students in the gender studies concentration may enter into such fields as social work, human resources, counseling, activism, journalism, policy analysis, and market research.
Curriculum
In consultation with their advisor and moderation committee, students construct an interdisciplinary concentration consisting of 16 to 24 credits. Students undertaking the gender studies concentration are required to take the foundational gender studies course, GS 101 CP. At least two of the courses in the concentration must be at the 300-level. The course list below is not exhaustive but offers an idea of the courses appropriate for a gender studies concentration.
Course Spotlight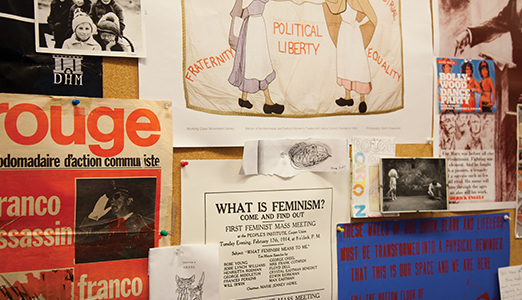 Gender Studies 226: Women Writing Resistance in the Middle East
This two-credit course will focus on the history and contemporary experiences of women in the Middle Eastern countries through the lenses of various contemporary women writers. Topics to be discussed include Shari'ah law and other religious-based gender role constraints; honor killings; the history of feminism in the region; the effect on women of violence (domestic, civil, and international); and women's strategies of resistance in various specific national contexts.