Creative Responses to Climate Change
A series of curated events affirms Rockers' commitment to sustainable environmental practice.
In connection with the Findhorn Climate Change & Consciousness Conference (CCC19), Simon's Rock will host several events in April. The CCC19 is a collaborative and participatory investigation into how communities can steward a sustainable future on what has already become a radically changed planet Earth.
The CCC19 is represented in the local area by the South Berkshire Hub for Climate Change & Consciousness, a networking organization co-founded by Simon's Rock Associate Professor Jennifer Browdy.
"Simon's Rock is a leader in tackling the challenges of climate change at the local level. Hosting these events allows us to share the importance of social and environmental justice issues with diverse audiences."

-Jennifer Browdy
Wake to the Truth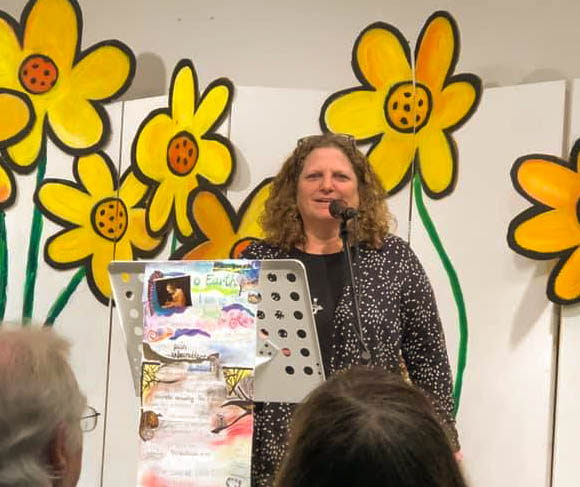 An important first step is to acknowledge the science and reality of climate change. For many communities, to do so requires language that speaks to the imagination and ways of communication that further comprehension. With this in mind, Browdy organized an April 16 event where local writers read original work on the themes of climate change and consciousness. She is also offering a community writing workshop on April 27, which will, she says, "encourage participants to explore political and planetary issues from a personal perspective."
Act in Collaboration
Facing the reality of an environmental crisis is only the beginning. The question becomes, how do communities build and rebuild in ways that promote resilience and regeneration? The Simon's Rock and Berkshire community are invited to hear and discuss one perspective with world-renowned Buddhist eco-philosopher Joanna Macy on April 26.
During an hour-long interview screening, Macy will talk about transforming despair and apathy, in the face of overwhelming social and ecological crises, into constructive, collaborative action. The author of more than 12 books, Macy is the root teacher of the Work That Reconnects, a ground-breaking theoretical framework that aims to engage and expand people's moral imagination, bringing wider perspectives on the world as it is, while fostering both compassion and creativity. Her wide-ranging work addresses the cultivation of ecological awareness and "active hope," and the fruitful resonance between Buddhist thought and contemporary science.
Celebrate a Love for Life
Effective social and environmental activism depends on resilient communities that offer people opportunities to connect meaningfully with each other as well as with the Earth that sustains us. Charles Eisenstein, an internationally renowned philosopher, author and teacher, will speak to the importance of coming at climate change from the perspective of love rather than fear during a keynote on April 28. Drawing from his new book Climate: A New Story, Eisenstein inspires social action with an appeal to the innate love for life that resides in each person, rather than fear of the negative consequences of inaction. The keynote, which will be streamed from CCC19 in Findhorn, Scotland, brings in-person and remote viewers together, embodying the way local communities around the world are interconnected.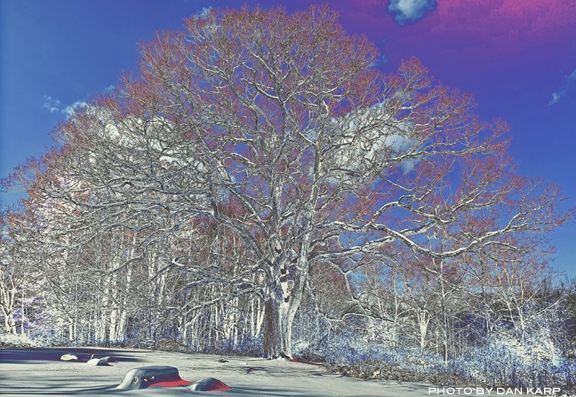 The White Oak Tree Celebration, taking place May 10-11, is a separate but related event that underscores the interconnectedness of all life on Earth. Part of the Daniel's Art Party (DAP) series of experimental workshop performances and unique multimedia installations, the event celebrates a beloved 264-year-old White Oak tree on the Simon's Rock campus. Along with musical acts, speakers, a tree blessing and bonfire, acclaimed photographer Kristin Jones will photograph the tree as part of a project to raise awareness around the need for tree and forest preservation.
A Year-Round Commitment
The events are part of a larger commitment to sustainability at Simon's Rock, a commitment that merges rigorous intellectual study with demonstrable action. Students are encouraged to bridge scholarship with citizenship, whether they're formally concentrating on Environmental & Sustainability Studies or working on the Center for Food Studies' annual ThinkFOOD Conference or presenting original research at the Berkshire Earth Expo.
Simon's Rock also utilizes solar energy, and over 50 percent of the electricity used on campus comes from renewable resources. The Simon's Rock Sustainability Committee meets regularly to discuss and initiate overall campus sustainability, and the student-led Green Society drives initiatives such as campus-wide single-stream recycling and composting.