As part of the Bard Center for Early College, the Early College Research Institute (ECRI) exists to foster the research, preservation, and scholarly discussion of the theory and practice of early college.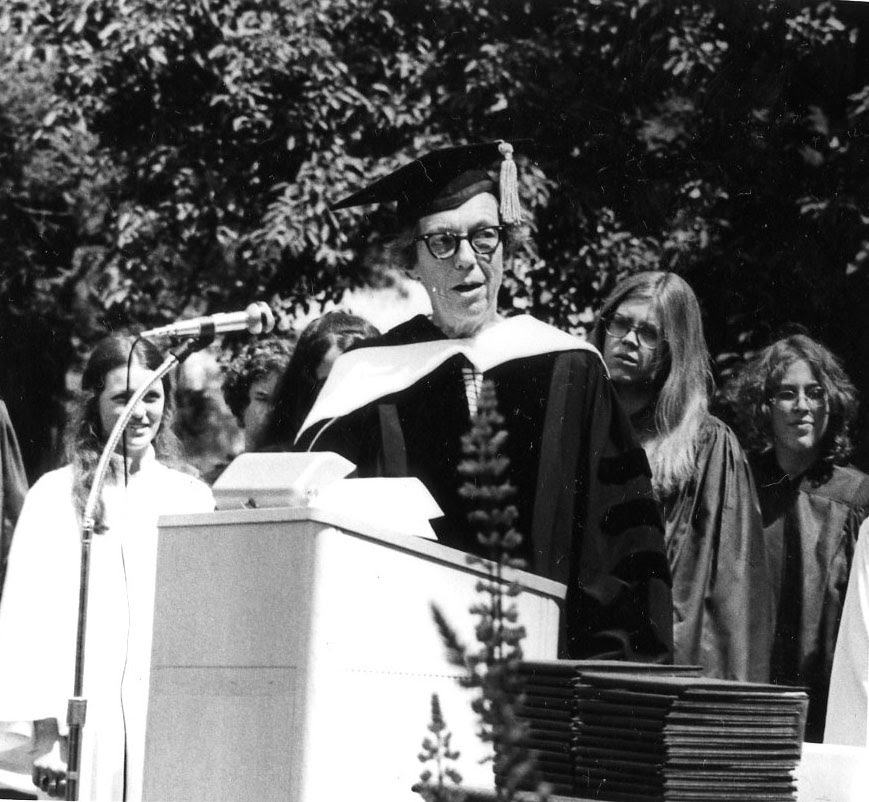 Elizabeth Blodgett Hall, founder of Simon's Rock, presides over the school's first commencement ceremony, 1970.
Based out of Bard College at Simon's Rock, the nation's only residential early college, the ECRI grounds early college in the broader educational landscape and informs the work of researchers of learning ecologies through its archival collections and academic journal, Early College Folio.
Contact us for more information about our collections, research, and ongoing initiatives.
Mission
To preserve and promote the early college idea, serve as the primary repository of materials related to early college in the United States, and to facilitate scholarly research related to the early college movement. Broadly, the ECRI seeks to capture valuable representations of the classroom experience and early college pedagogy, and collect insights from the successes of early colleges nationwide.
Collections
The ECRI is currently accepting donations of both physical and digital materials related to early college, and welcome inquiries about both the use and expansion of our collections at any time. Please contact us for more information.

The following collections include materials (papers, official correspondence, planning documents, audio files, video files, photographs, etc.)
* These collections are in their earliest stages of development.
Use & Access
The ECRI collections are located in the Alumni Library at Bard College at Simon's Rock. If you would like to make an appointment, need help locating materials, or have any questions, please contact archives@simons-rock.edu.
To request copies of materials, please complete a Copy Request Form. Copies are prepared solely for the use of the researcher and may not be reproduced, published, broadcast without the prior written permission of ECRI staff.
Early College Folio
Published by the ECRI, Early College Folio is a digital, open-access academic journal hosted on Bard Digital Commons. The journal is peer-reviewed, and includes articles by faculty and staff at early colleges and other leaders within the movement. Some student and alumni work will also be included. The journal's first issue is planned for fall 2020.
Early College Folio seeks to regularly publish accurate, innovative, and insightful research about early college applications world-wide, focusing broadly on the theory, pedagogy, and contemporary applications of early college models, including early college high schools, early admission, early entrance, and residential early college.
The journal highlights experiences inside and outside the classroom and across academic programs, therefore interdisciplinary academic works steered by both qualitative and quantitative methodologies are welcome. Early College Folio editors invite not only manuscripts and data sets for consideration, but also non-text and experimental mixed media submissions that incorporate photographs, audio, video and more.
The ECRI's thorough peer-review process will yield a product that roots early college's unique place in the higher education landscape. Researchers will have the opportunity to showcase their findings to a global audience free of restrictive paywalls or membership requirements.
For detailed submission guidelines, please view the current Call for Submissions.
All perspectives are welcome: faculty, librarians, student life staff, registrars, medical/health services, etc. Formal essays and articles are encouraged, but the editors will also consider experimental formats. Options may include:
3,000–7,000 word long-form essays/articles

1,000–3,000 word short-form pieces

Student and faculty collaborative work

Interviews/curated conversations

Letters to the editors and op-eds

Data sets and data visualizations

Podcasts

Short film
Contact Us
Brian Mikesell
Library Director, Bard College at Simon's Rock
bmikesell@simons-rock.edu | 413-528-7274
Erin Donahue
Program Associate, Early College Research Institute
edonahue@simons-rock.edu | 413-528-7620