The Early College Research Institute (ECRI) exists to foster the research, preservation, and scholarly discussion of the theory and practice of early college.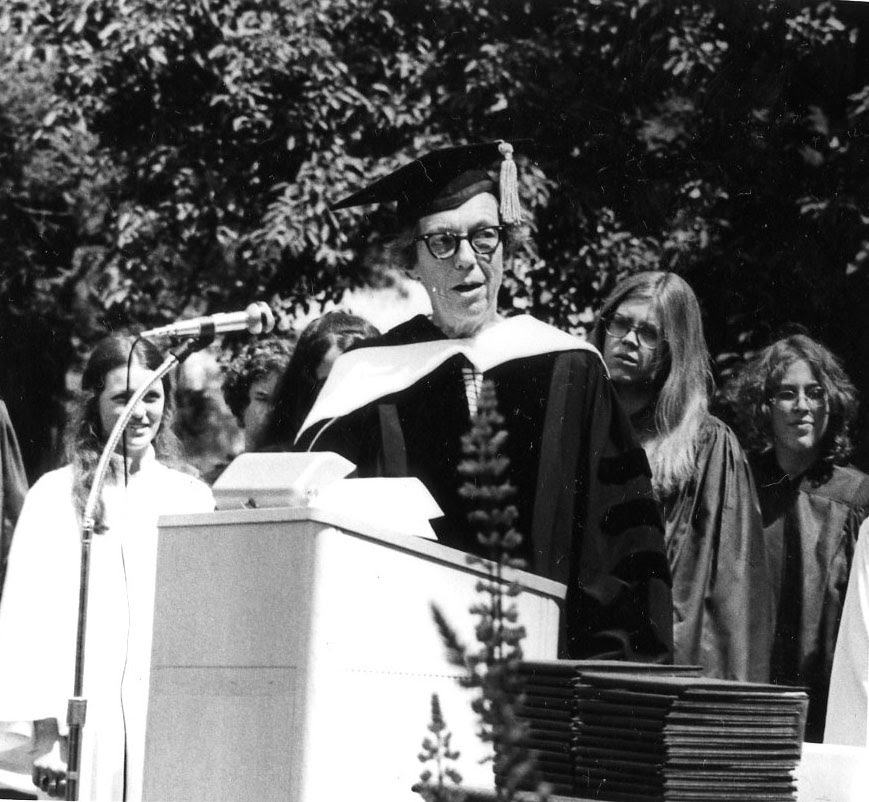 Elizabeth Blodgett Hall, founder of Simon's Rock, presides over the school's first commencement ceremony, 1970.
Based out of Bard College at Simon's Rock, the nation's only residential early college, the ECRI grounds early college in the broader educational landscape and informs the work of researchers of learning ecologies through its archival collections and academic journal, Early College Folio.
Join our email list to stay up-to-date on our journal, collections, research, and ongoing initiatives.
Mission
To preserve and promote the early college idea, serve as the primary repository of materials related to early college in the United States, and to facilitate scholarly research related to the early college movement. Broadly, the ECRI seeks to capture valuable representations of the classroom experience and early college pedagogy, and collect insights from the successes of early colleges nationwide.
Collections
The ECRI is currently accepting donations of both physical and digital materials related to early college, and welcome inquiries about both the use and expansion of our collections at any time. Please contact us for more information.

Browse our Collections
The following archival collections include a wide range of materials (records, official correspondence, publications, planning documents, audio, video, photographs, artifacts, etc.). View finding aids, inventories, and access digitized content on the research guide.
Use & Access
ECRI collections are located in the Alumni Library at Bard College at Simon's Rock. If you would like to make an appointment, need help locating materials, or have any questions, please contact archives@simons-rock.edu.
To request copies of materials, please complete a Copy Request Form. Copies are prepared solely for the use of the researcher and may not be reproduced, published, broadcast without the prior written permission of ECRI staff.
Early College Folio
Published by the ECRI at Simon's Rock, Early College Folio is a digital, open-access academic journal hosted on Bard Digital Commons. The journal is peer-reviewed and includes articles by faculty and staff at early colleges and other leaders within the movement. The journal's first issue was released in the spring of 2021 and has since reached readers in more than 80 countries.


Early College Folio seeks to regularly publish accurate, innovative, and insightful research about early college applications world-wide, focusing broadly on the theory, pedagogy, and contemporary applications of early college models, including early college high schools, early admission, early entrance, and residential early college.
The journal highlights experiences inside and outside the classroom and across academic programs, therefore interdisciplinary academic works steered by both qualitative and quantitative methodologies are welcome. Early College Folio editors invite not only manuscripts and data sets for consideration, but also non-text and experimental mixed media submissions that incorporate photographs, audio, video and more.
The ECRI's thorough peer-review process will yield a product that roots early college's unique place in the higher education landscape. Researchers will have the opportunity to showcase their findings to a global audience free of restrictive paywalls or membership requirements.
For detailed submission guidelines, please view the current Call for Submissions.
All perspectives are welcome: faculty, librarians, student life staff, registrars, medical/health services, etc. Formal essays and articles are encouraged, but the editors will also consider experimental formats. Options may include:
3,000–7,000 word long-form essays/articles

1,000–3,000 word short-form pieces

Student and faculty collaborative work

Interviews/curated conversations

Letters to the editors and op-eds

Data sets and data visualizations

Podcasts

Short film
ECRI Fellowship
ECRI Fellows are non-resident scholars who are engaging in a research project either in their discipline or related to a particular aspect of early college. To facilitate their research, the Fellows have access to the resources and services of the Alumni Library as well as the collections of the Simon's Rock Archives and ECRI. As part of the year-long project, each Fellow presents some aspect of their research to the community in a lecture, workshop, or other event. At the moment, current faculty and staff at
Bard Early College
are eligible for ECRI Fellowships.
Tongji Philip Qian
As the founding chair of the Arts Division at Bard High School Early College DC, visual artist, and researcher of Chinese art in nuanced contemporary settings, Tongji Philip Quian will expand on his work unpacking the label of "Chinese artist in the United States" by selecting related texts and creating a series of artworks as a push-and-pull dialogue, situating them in the fugitive space between words and images. The outcome of Quian's fellowship is threefold: 1) the creation of mixed-media artworks (intersecting painting, drawing, and printmaking) as a visual commentary on the aforementioned literature, which will be added to the Alumni Library's intimate Artist Book collection, 2) a small solo exhibition at the Alumni Library, and 3) a public artist's talk open to not only the student population but also the larger, local community.
Mika Turim-Nygren
Mika Turim-Nygren, American Literature faculty at Bard High School Early College DC, will — as an extension of her work as a Quarry Farm Fellow out of the Center for Mark Twain Studies — spend her time as an ECRI Fellow analyzing and contextualizing the racialized dialect employed by Mark Twain in his book Adventures of Huckleberry Finn. Turim-Nygren is devoted to building the case that not just "all modern American literature," but in some sense all modern nationalist literature, comes from Huckleberry Finn. Her research will inform a future a course on the problem of the American literary canon, inviting students to first read Huckleberry Finn and then "displace Twain" with a variety of other possibilities (such as Harriet Beecher Stowe's Uncle Tom's Cabin or Martin Delany's Blake; or the Huts of Africa), all while analyzing the way that the works chosen for our classrooms shape our national discourse.
Celestine Woo
BHSEC Newark's Celestine Woo will spend her time as an ECRI Fellow updating her familiarity with scholarship on Asian American literature. This research will expand Woo's knowledge of the scholastic field, at a time when Asian American literature is in the spotlight. Given the current sociopolitical climate, as well as the burgeoning of Asian American works, this body of literature is being shown unprecedented and growing respect and attention by many scholars and institutions. Woo's fellowship will conclude with a talk that will share her successes in deepening her understanding of the landscape of scholarly ideas and issues pertaining to Asian American literature in general, with a focus on children's and young adult literature.
Matthew Park
Professor of African History and Global Social Sciences at Bard High School Early College Newark and Program Chair of Year Two Seminar at Bard Early College, Matthew Park will focus his fellowship on further developing an article for publication in Early College Folio on the subject of Seminar across the BHSECs. He will also work on editing a special edition of Early College Folio dedicated to decolonizing Seminar across the BHSEC network. This work is an extension of his work over the past year and a half in his role at Bard Early College where Park has worked to examine and revise how Second Year Seminar is taught across the network.
Hany Eldeib
Hany Eldeib, Bard High School Early College DC, will launch a project that leverages the significant expertise of the Principal Investigator in the use of mathematical modeling and computer simulation for design, optimization, and decision making. The goal of Eldeib's research is to explore the use of new methods for teaching STEM courses to Bard Early College students. These methods include the introduction of design optimization techniques and techniques for simulation of complex engineering and societal systems such as robotics, telecommunications, space and aerospace, transportation, healthcare, and environmental systems. Bard DC students could then design and optimize solutions to a variety of problems either inspired by their communities or by science and technology. At the conclusion of the fellowship, Eldeib will seek to share his research through a workshop for STEM faculty and students and through publishing the results in an appropriate journal.
Nemesio Gil Pineda
Nemesio Gil Pineda, Languages and Literature faculty at Bard Early College New Orleans, proposed a project on the construction and visualization of black elegance and beauty in early modern Europe through the visual arts. It will take the form of an academic course (or courses) at Bard Early College New Orleans. The projected course(s) will be content-based and supplemented by a more interactive experience for students through the use of online digital technology such as audio/visual resources and other tools that will enhance their comprehension of the topic at hand.
How to Apply
The ECRI Fellowship is not currently accepting applications.
Contact Us
Brian Mikesell
Library Director, Bard College at Simon's Rock
bmikesell@simons-rock.edu | 413-528-7274
Erin Donahue
Archivist and Program Manager, Early College Research Institute
edonahue@simons-rock.edu | 413-528-7620