Simon's Rock Farm
Our student-run organic farm harnesses regenerative agricultural practices to provide bounty in many forms for our community.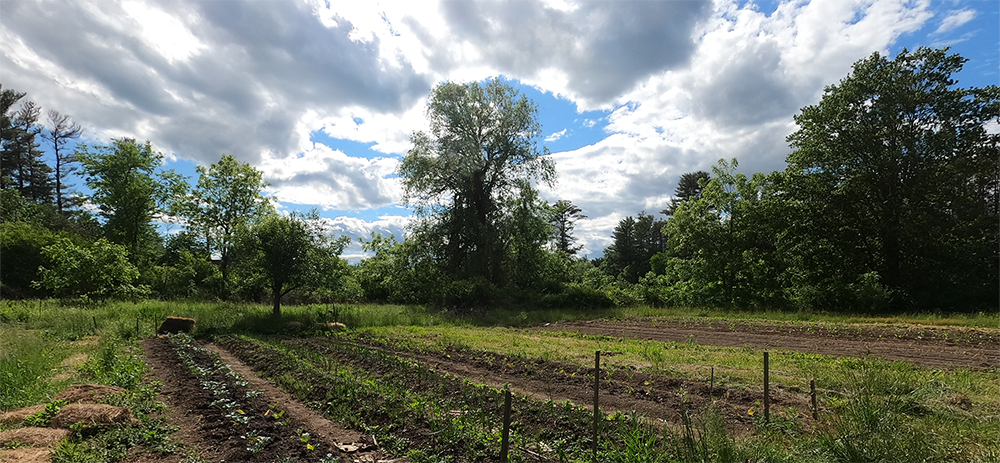 On the Farm
Our farm is located on approximately two acres of the Simon's Rock campus behind Fisher Science and Academic Center. From crop production and research to raising chicks and housing sheep, the farm offers the Simon's Rock community sustenance, education, and civic engagement.
The farm produces crops like broccoli, brussels sprouts, gourds, grapes, squash, and hearty winter greens, which sometimes go to our Dining Hall to help feed our campus community.
In addition to student interns, the farm is managed by Sarah Monteiro of Greenagers.
Student Farmers & Friends
The Simon's Rock farm is a safe and inclusive space for people of all abilities to build community around land and food. Our community has many opportunities to get involved with the farm:
Internships: All Rocker students—regardless of age, experience, and physical ability—can apply for a summer farm internship.
The Simon's Rock Farm Club: All students can also join the Simon's Rock Farm Club. Club members help with work on the farm and partake in foraging expeditions—where students learn about plants and herbal remedies and how to distinguish edible flora from weeds—seeding, taking care of the farm animals, and making connections with other local farms.
Research and education: From classes on organic farming to ecology and sustainability, faculty and students use the farm for hands-on learning and practice in organic and regenerative farming, soil research, and related pursuits.
Community engagement and outreach: The farm shares its bounty by hosting a farm stand on campus—which is typically open to both students and the local community—and by providing fresh produce to our Dining Hall and to groups visiting campus during the summer. Through Greenagers and the Simon's Rock Center for Food Studies, the farm also engages the local community through education, programming, and youth outreach.