Timeline: June 2016 – May 2017 (Commencement)
Contributors: A broad reach of the Simon's Rock community is invited to contribute: students, faculty, staff, board members, retired staff and faculty, alumni, students' parents.
Project management team:
Karen Advokaat, Coordinator of Academic Programs
Tom Coote, Director of Sustainability Programming & Faculty in Environmental Studies
Brian Conolly, Faculty in Philosophy
Chloe Hull, student project intern (spring)
KellyAnne McGuire, Instructional Technology and Collection Development Librarian
Kalie McGuirl, student project intern (fall)
Brian Mikesell, Library Director
Hannan Mir, student project intern (spring)
Jess Parrott, student project intern (spring)
Monk Schane-Lydon, Senior Instructional Technologist
Sarah Snyder, Faculty in Biology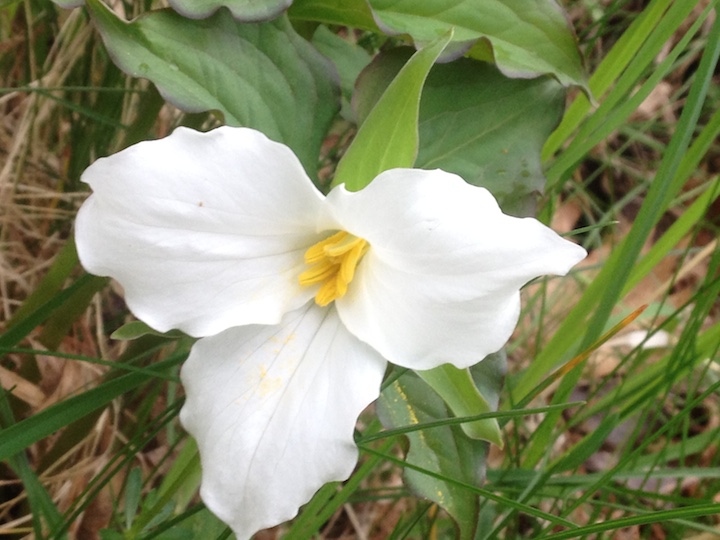 Trillium, photo by Anita Ytuarte Oelkers
Content
We envision many different forms of expression coming together in the book and we invite contributions in the form of artwork (drawings, paintings), photography, poetry, prose, and other written and visual ways of expressing your experience of and connection to the natural beauty of our campus.
The starting place for building the content are actual observations, "cool sightings."
Upcoming Events:
Build bluebird boxes
Scavenger Hunt
Natural history profiles needed:
Gray fox

Great blue heron

Luna moth

Beavers in summer; beavers in winter


Bobcat
Seeking artwork:
All of the above, and:


Black bear

Raccoons

Cedar waxwings


Pileated woodpecker
Cool Sightings
Share wildlife sightings, natural history observations, weather effects, special places on campus, beautiful scenes, etc. Based on the cool sightings that we have on campus, we are writing natural history profiles about what we are observing, asking for artwork to go with the natural history information, and prompting our community to write creative writing pieces that explore and celebrate the natural history of this place.
Submit your observations:
Post to Facebook: SR Cool Sightings
Write on the log sheet in the Hall College Center outside Academic Affairs
Ideas of where to observe:
Interpretive trail

Walk around the pond

A four-season visit to the same place

Reflecting pool near Blodgett House

Sugar shack

The Rock

Bridge over the marsh by the Kilpatrick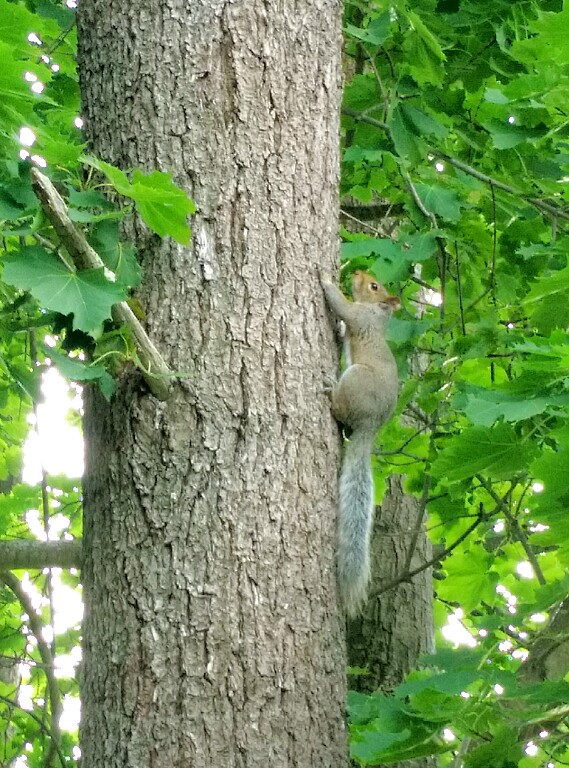 Grey squirrel, photo by Rachel Shi '15
Natural History Profiles
Natural history profiles are being written to accompany many of the cool sightings on campus to illustrate the behavior, ecology, and other aspects of the wildlife and plant life being observed on campus.
We are working with faculty and various classes to help with writing natural history profiles to go with the cool sightings that are being reported. If you want to assist with this kind of content, email us.
Artwork
We welcome the submission of photographs, drawings, illustrations, paintings, or other forms that would suit a book publication. Photographs submitted via the Facebook page will not automatically be considered for the book, please use the Submission Form to submit photographs.
Faculty – we would love to work with you on specific ways to have a class assignment related to this project. Please contact us if you would be interested.
Creative Writing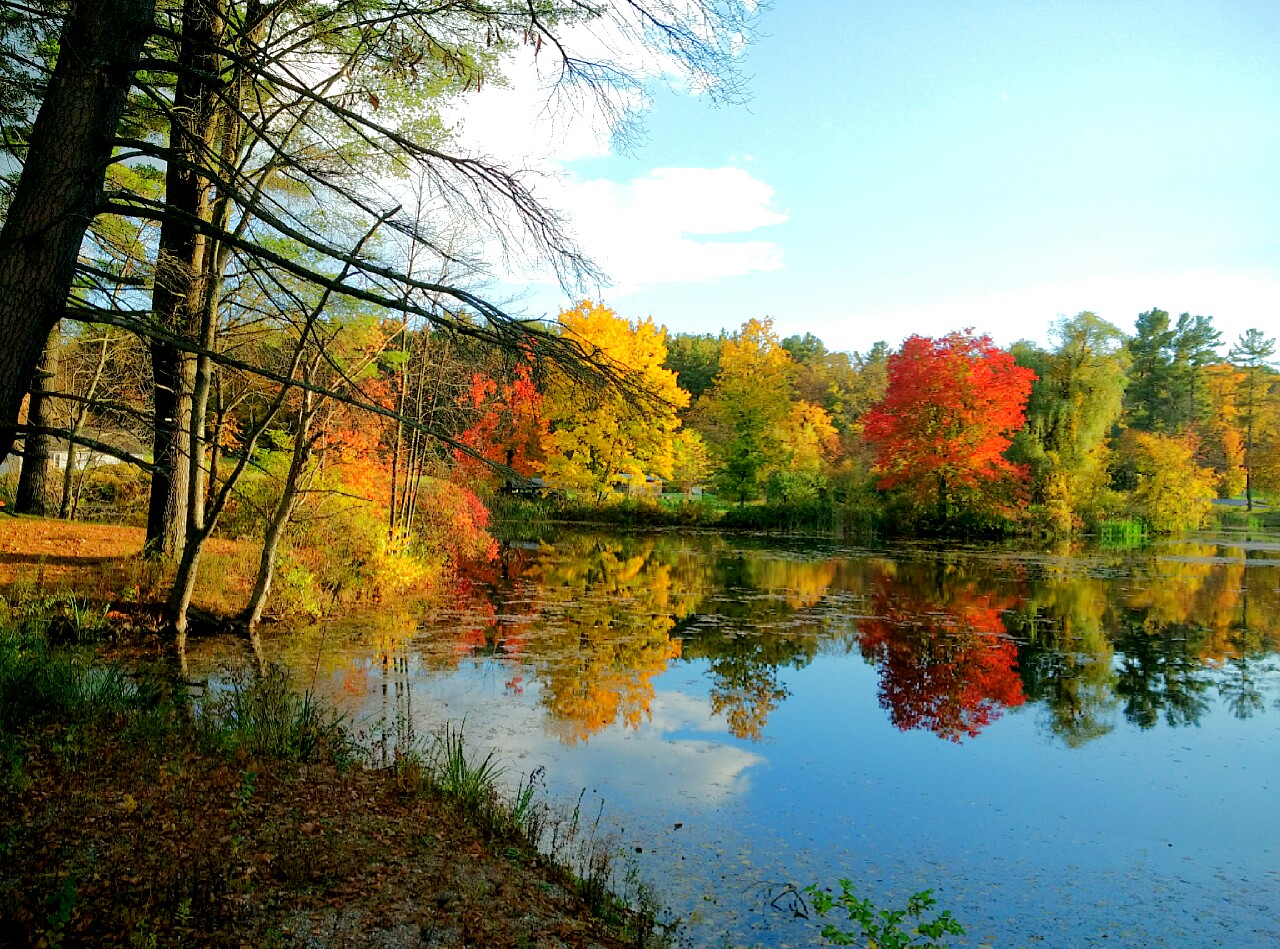 Fall colors, photo by Rachel Shi '15
We welcome a range of written work that expresses your experience with the natural setting of our campus: poetry, vignettes, anecdotes, and short stories.
Faculty – we would love to work with you on specific ways to have a class assignment related to this project. Please contact us if you would be interested.
Details: short(er) pieces are preferable to fit within the scale of the book; longer pieces may be edited to fit the scale of the book
Submission
Use the Submission Form to submit your artwork (including photographs), natural history profile, or creative writing. Up to two items can be submitted at once with the form (if you have more than two items to submit, you will need to use the form multiple times). You will be asked to sign a release as part of this submission form. Full credit will be given to artists and writers and you retain full copyright of your work. All material is subject to editing. If you have any questions or concerns, please email us.
Depending on the volume of material received, not all submissions will be in the printed book however we plan on a web version that can showcase most submissions.
Production
Students working with Monk Schane-Lydon's Graphic Design course will be involved in the layout of the book. We are working with Quality Printing for the actual printing of the books.
Please consider supporting this project by purchasing your copy of the book now! This will help us know how many copies to print and ensure we cover the printing costs.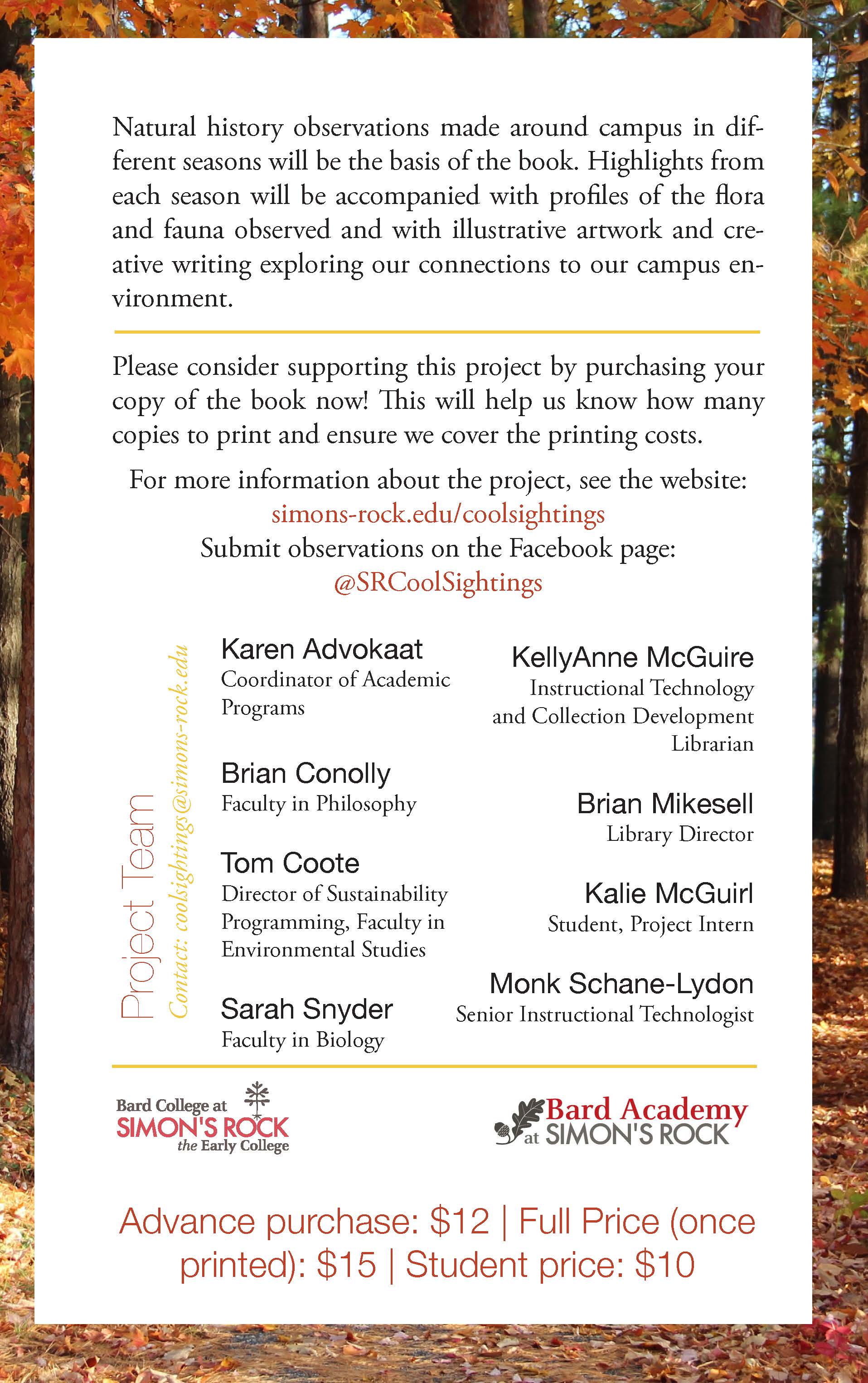 Advance purchase (through April 30, 2017): $12
Full price (as of May 1, 2017): $15
Student price: $10
Any profits will go to support the sustainability initiatives on campus.