Dining On Campus
Dining
You're hungry for a challenging college experience, but sometimes you're just hungry.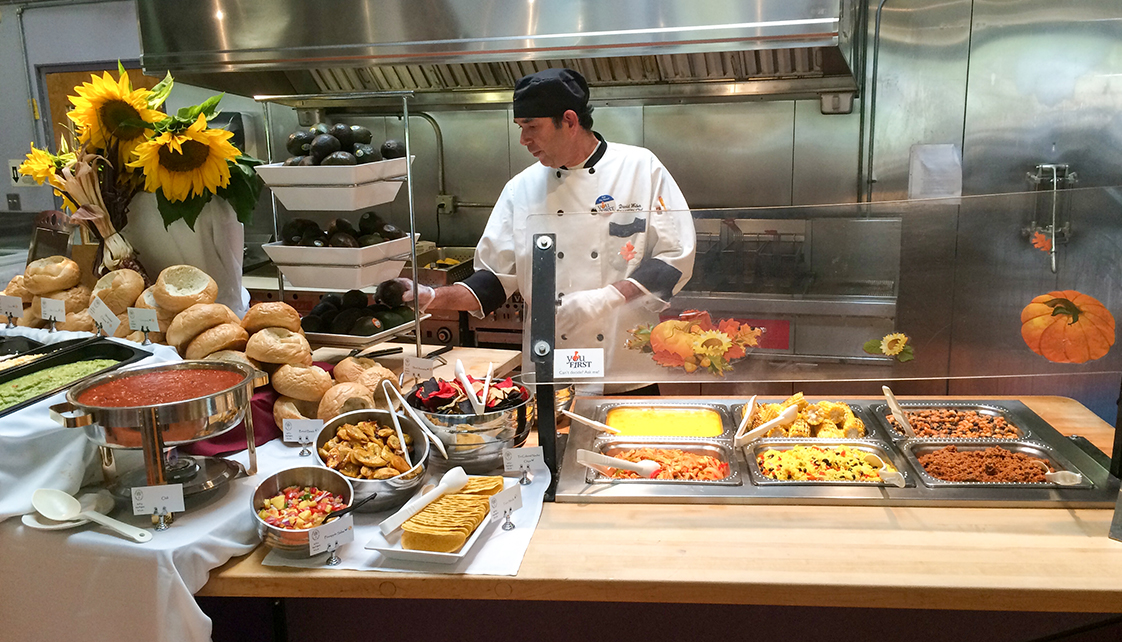 At the Simon's Rock dining hall, you'll find what you're looking for, no matter what you're looking for: food—reliably tasty food—good (and good-for-you) choices, served by a friendly staff in a setting where you can relax with friends over shared meals.
And in the evenings, the cafe in the student union is open late for snacking and socializing.
"You find friends in every space. Every time I walk into the dining hall and I either see Chris, Stephanie, or a student, they'll always say hi to me, they know who I am. Sometimes we'll talk and hang out. Simon's Rock gives us the ability to make the personal more personal."

-Jan '13
Curious about favorites on the dining hall menu?
Serving up Variety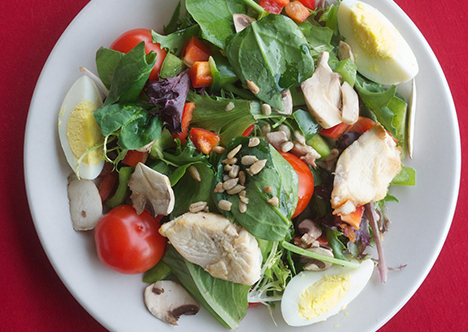 The dining hall caters to vegan, vegetarian, and omnivorous students, staff, and faculty. Menu options are updated online, and with a number of stations at each meal, you'll always have a variety to choose from. You'll find your favorite treats on regular rotation, whether it's made-to-order omelettes at brunch, or something from the pizza oven, made fresh daily.
All residential students are on the full meal plan, which includes 19 meals a week—breakfast, lunch and dinner on weekdays, and brunch and dinner on the weekends. Students, staff, and faculty are invited to enjoy meals as social occasions together around large round tables. Don't be surprised if the conversations range from pizza toppings to postmodern theory.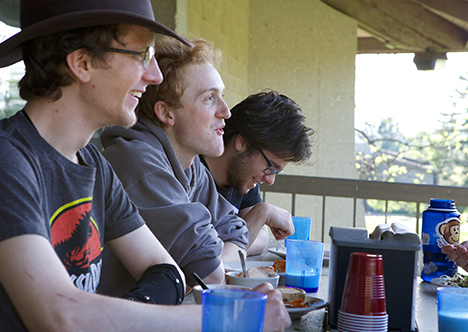 The dining hall staff promotes healthy eating, both through smart menu offerings and an education program with a spotlight on nutrition. Information is available to you daily, online, and at the entrance of the dining hall, so while you're chowing down you can quench that thirst for knowledge, too.
After-hours munchies? You'll also have access to kitchen space in your residence hall, and a cafe in the student union which serves up snacks until late.
Dining Hall Hours
Weekdays
8:00 a.m. - 9:00 a.m. Hot Breakfast
9:00 a.m. - 11:00 a.m. Continental Breakfast
11:15 a.m. - 1:45 p.m. Lunch
4:00 p.m. - 5:00 p.m. Pizza and Salad
5:00 p.m. - 7:00 p.m. Dinner
Weekends
10:00 a.m. - 2:00 p.m. Brunch
5:00 p.m. - 6:30 p.m. Dinner
Cafe
7:00 p.m. - 11:00 p.m. Daily