John Myers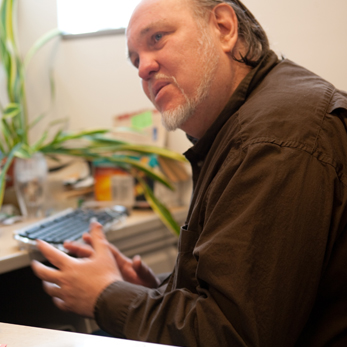 Professor of Music, Electronic Arts, and Cultural Studies
Division Head, Arts
Contact
Daniel Arts Center
Academic Program Affiliation(s)
Areas of Specialization
Jazz
Composition
Ethnomusicology
Animation
Guitar performance
Interests
Research Interests: New computer-based art forms and their relationship with traditional art forms, including implications for representing and defending cultural diversity
Teaching Interests: Jazz, music theory, interactive arts, world music
Other Interests: Chinese language
Biography
PhD, University of Maryland at Baltimore
MM, Howard University
BA, Towson State University
Dr. Myers is a composer, performer, media developer, and author, and has a broad range of activities that reflect his expanding interests and areas of professional engagement. He often performs as a guitarist, either as a soloist or in ensembles, playing jazz and Western classical music. Dr. Myers has been teaching at Simon's Rock since 1987.
Highlights
His extended composition for chorus, narrator, and instrumental ensemble; "The West Lake Cycle" was awarded the Chorus America/ASCAP Alice Parker Award in 2014. His postgraduate work was supported by the National Endowment for the Humanities, the Committee on Scholarly Communication with the People's Republic of China, and the Massachusetts Foundation for the Humanities.
His composition "Paintings in Song: Visions of Norman Rockwell," commissioned by Crescendo Chorus, premiered in April 2017, is a nine-movement suite for 60 singers and instrumental ensemble, with each movement based on a single iconic Norman Rockwell paining spanning the 1920s-1960s. A 2018 performance at the Norman Rockwell Museum was live-streamed and viewed over 1400 times at the time of the concert.

In April 2003, working with Swiss artist Etienne Delessert and Alice Myers, he created a series of wide-screen (30 X 60 foot) digital animations, for live performances by the Atlanta Symphony Orchestra of Ravel's Ma mère l'Oye.

They created an interactive DVD computer installation for an exhibit at the Visual Arts Museum at the School for Visual Arts in New York City, Fall 2003. His compositions appear on several CDs, including Look In, Jazz at the Rock, Volumes I-IV and in various multimedia productions.
John did the Lingo programming for Tabla: A Journey into Eastern Percussion, an instructional CD-ROM program exploring rhythmic techniques and form in the classical music of North India, (AIM Records, 2003) and for The Virtual Jury(1997), an online interactive role-playing program based on the circumstances of the Unabomber trial. In 1994, John was assistant sound designer and guitarist for Louis Cat Orze: The Mystery of the Queen's Necklace (an Interactive Adventure in the Court of Versailles), a CD-ROM program (IVI Publishing, Minneapolis, 1995).
Publications
Look In (audio CD, Jungsoul, 2004) features his original jazz compositions and performances on guitar, clarinet, and electronic instruments.
Way of the Pipa: Structure and Aesthetics in Chinese Lute Music, Kent State University Press (1992).
Articles in Yinyue Yishu, Soundboard, Jazz Research Papers, College Music Society Newsletter, and other journals.
Entries for the Asian-American Encyclopedia, Encyclopedia of the Ancient World, The Fifties in America, the Garland Encyclopedia of World Music, and many others.