Maryann Tebben Faculty Bio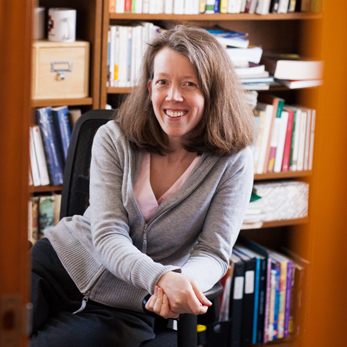 Professor of French
Head of the Center for Food Studies
Contact
Liebowitz Center for International Studies
Academic Program Affiliation(s)
Areas of Specialization
Renaissance and 17th-century French literature and culture
French and Italian food history
Women writers
Interests
Research Interest: French food history and identity, French women writers and salon culture, conversation, theater
Teaching Interest: Early modern French literature, modern French theater, food, and culture, women writers
Biography
Ph.D. in French, University of Southern California
B.A. (summa cum laude, Phi Beta Kappa) in French and Government, University of Notre Dame
Dr. Tebben previously taught at Syracuse University and SUNY-Oswego. Her primary specialty is early modern French and Italian literature and she has published articles on Molière, Du Bellay, and courtesy books in the Renaissance. She has also explored the relationship of food culture to national identity in France and has published pieces on iconic French dishes, sauces, and the history of dessert. Dr. Tebben regularly presents papers on food culture at national and international conferences, including the IEHCA International Conference in Tours, France (2016), the Umbra Institute Food Conference (2012), and the Colloquium Pomme de Terre at the Université de Tours (2008). She has been teaching at Simon's Rock since 2000.
Highlights
PUBLICATIONS
"Semiotics of Sauce: National Identity and Naming of Pasta Sauces" in Representing Italy Through Food (Bloomsbury Academic, 2017).
"Seeing and Tasting: The Evolution of Dessert in French Gastronomy", Gastronomica 15(2): Summer 2015.
Sauces: A Global History. London: Reaktion Books, 2014.
"Revising Manners: Giovanni Della Casa's Galateo and Antoine de Courtin's Nouveau traité de la civilité", New Readings Volume 13 (2013).
"Writing the Ineffable: Du Bellay's Olive", French Review 78:3 (2005).
"French fries et identité française: la frite et les fries en tant qu'objets littéraires et culturels" in La Pomme de Terre de la Renaissance au XXIe siècle, Presses Universitaires de Rennes/Presses Universitaires François Rabelais de Tours, 2011.
"French Food Texts and National Identity: Consommé, Cheese Soufflé, Francité" in You Are What You Eat: Literary Probes into the Palate, Cambridge Scholars Press, 2008.
CAMPUS SERVICE
Emily Fisher Faculty Fellow 2011-2013
Chair, ThinkFOOD conference at Simon's Rock, April 2014, 2015, 2016
INTERVIEWS