ThinkFOOD 2018
The Future of Farming:
Democratizing the Food System
Saturday, April 7, 2018
Kellogg Music Center and Fisher Science Center
Join us for the 5th annual ThinkFOOD conference!
"We hope to create a dialogue that will illuminate Berkshire foodways for producers and consumers, connect potential partners for collaboration, and help to determine the best way forward for Berkshire food."

-Professor Maryann Tebben,
Center for Food Studies at Simon's Rock,
from the 2016 Conference


Conference schedule
10:00 a.m. Welcome (Kellogg Music Center)
10:15 a.m. Farmers as Activists: Democratizing Food Production

Why is ownership of food production important?
Amani Olugbala from Soul Fire Farm, Ibrahim Ali from Gardening the Community, and Lindsey Lusher Shute from the National Young Farmers Coalition will discuss these questions: What could bring young farmers, people of color, and underrepresented groups into farming? How do we create a pipeline of future farmers to maintain our food supply ethically and sustainably? Why is ownership of food production important, particularly for marginalized groups?


12:00 p.m. Lunch

Served in the Simon's Rock Dining Hall and featuring local foods.
Poster presentations by students from the fall course Food Media Literacy, taught by KellyAnne McGuire, Outreach Librarian at Simon's Rock. Faculty members and students will lead tours of the Fisher Science Building.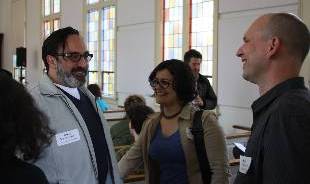 1:30 p.m. Roundtable Discussions (Fisher Science Building)

Session A: 1:30-2:15 p.m.
Session B: 2:30-3:15 p.m.
How can "food-active" citizens engage with agriculture in productive ways?
The roundtables will examine how consumers can connect with food production and sustainable eating via social justice organizations or farm-to-table businesses or CSAs, for example. Roundtable topics will be selected by audience members at the close of the first panel Each session will offer two different topics; conference attendees choose which discussions to attend.
Invited moderators:
Will Conklin, Executive Director of Greenagers

Alena Coons (SR '00), PhD candidate in Ecopsychology, Agrarian Researcher, Educator

Amanda Brown, Director of UMass Student Farm

Jessica Vecchia, Director of Alchemy Initiative in Pittsfield

Morgan Ovitsky Be Well Berkshires Project Coordinator

Mark Firth, owner, and Steve Browning, chef Prairie Whale Restaurant
3:15 p.m. Conference Wrap-up and Conclusions
4:00 p.m. Campus Tree Walk
Join Donald McClelland, faculty in environmental science, for a fun and educational walk around campus to learn about the trees, with an emphasis on native trees and foraging opportunities.


Additional Resources