ThinkFOOD Conference
ThinkFOOD 2022: Regenerative
October 15, 2022
Thanks to all who attended! see you next year
An exploration of food practices and traditions that honor our shared roots and empower us to restore the food system.
Sessions will address regenerative agriculture, honoring indigenous practices, farmers of color, New England food in context, empowering young growers, food in community, food insecurity, land access, community gardens, seed-saving, and Berkshire-local initiatives.
Choose from in-person or Zoom sessions. Consult the workshop schedule for details.
Location: Fisher Science Center at Simon's Rock.
Masks are required indoors.
The Center for Food Studies at Bard College at Simon's Rock presents our 9th annual ThinkFOOD conference with in-person and virtual workshops on Saturday, October 15. ThinkFOOD 2022 will give you new perspectives on food, farming, and resiliency from those who work the land. We'll offer interactive sessions with practical takeaways and new ideas from experts in and around the Berkshires and beyond.
Karen Washington of Rise & Root Farm and Black Urban Growers will give the keynote address.
The conference is free for all students. Tickets are $25 for access to all sessions, $15 for half day, or $10 for keynote only; lunch tickets are $10. Discount tickets available; please email for details.
Registration is now closed
Register to attend the Conference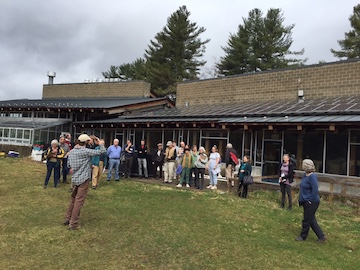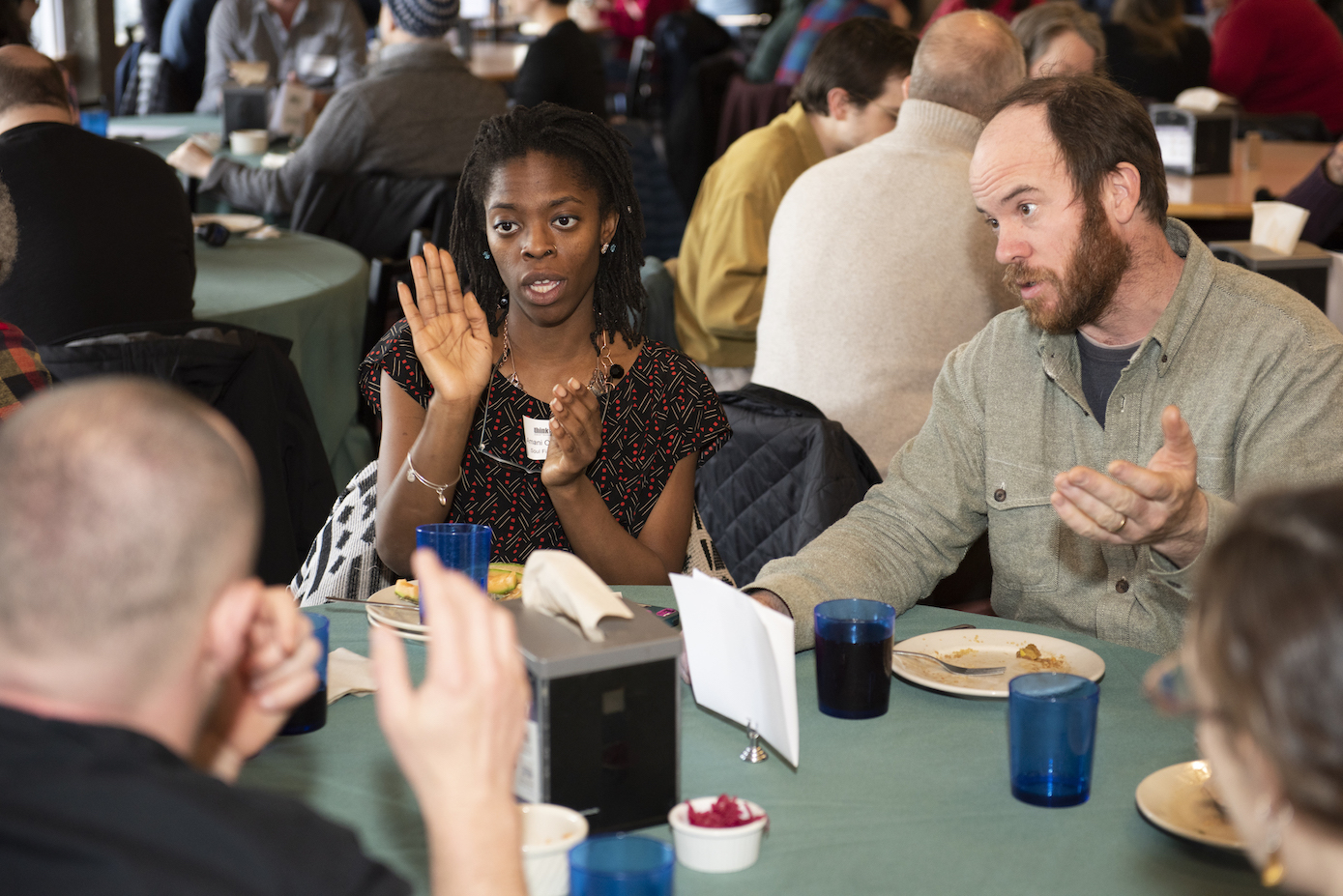 Program
Scheduled to speak
Saturday, October 15
Registration: 9:00 a.m.
Registration desk open at the Fisher Science Center
Session 1 Presentations: 9:30 – 10:15 a.m.
Clark Auditorium; in-person/Zoom
Melissa Ferretti, Herring Pond Wampanaog Tribe, Cape Cod, MA
Room 201; in-person
Integrated Pest Management and Fruit Orchards: Jaime Piñero, UMass Stockbridge School of Agriculture
Session 2 Panel: 10:20 – 11:20 a.m. [In-person/Zoom; Clark Auditorium]
Empowering Young People and Building Community:
Sarah Monteiro and Will Conklin, Greenagers/April Hill, Sheffield, MA
Lauren Piotrowski, Program Manager, Roots Rising, Pittsfield, MA
Session 3 Panel: 11:25 a.m. – 12:25 p.m. [In-person/Zoom; Clark Auditorium]
Farms for All:
Amanda Reynolds, Senior Community Engagement Coordinator, Food Bank Farm in Hadley, MA
Anita Adalja, Not Our Farm, Albuquerque, NM
Gaby Pereyra, Northeast Farmers of Color Land Trust
Lunch: 12:15 – 1:15 p.m.
Conference Lunch provided by Simon's Rock Dining Services
outdoor dining available
Session 4: 1:30 – 2:30 p.m.
Climate Change and the Berkshire Foodshed: Ben Crockett, Berkshire Agricultural Ventures, Great Barrington, MA
Panel: Room 201 [in-person]
Farms as Community Sanctuaries
DeeArah Wright, Co-Founder/Worker-Owner, Mumbet's Freedom Farm, Sheffield, MA: "Seeding BIPOC Sanctuary"
D Rooney, Farmer/Co-Owner/General Manager, Rock Steady Farm, Millerton, NY: "One Farmer's Take on Being Regenerative with Oneself"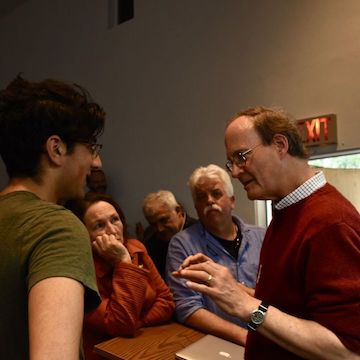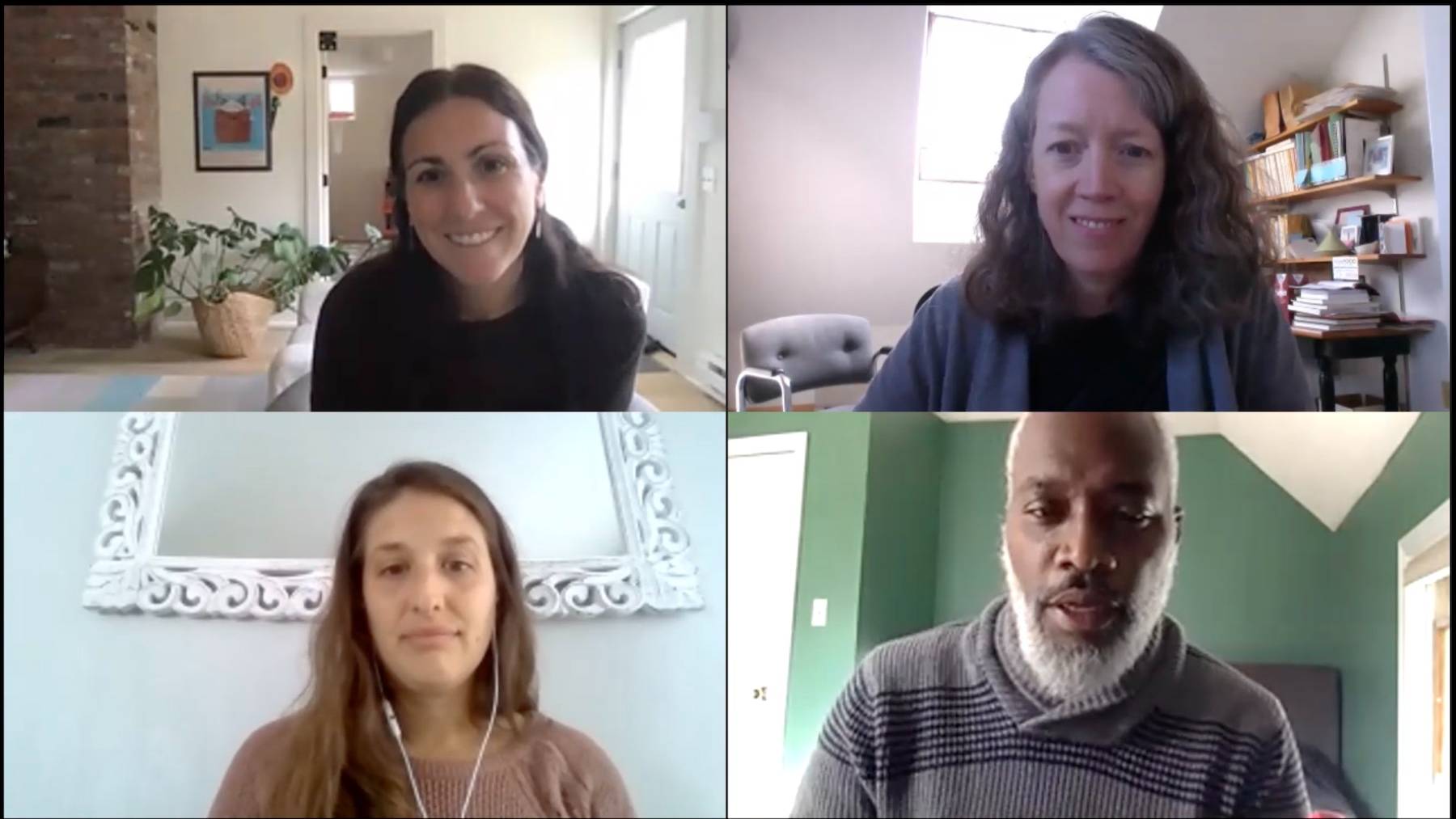 Panelists at ThinkFOOD 2020's Virtual Conference
Keynote Address: 2:45 – 3:45 p.m.
[In-person/Zoom] Clark Auditorium
Karen Washington of Rise & Root Farm and Black Urban Growers, "Growing Food and Feeding People"
Online Registration Now Closed
Register to attend the Conference
For more information, contact Maryann Tebben, Director of the Center for Food Studies and faculty in Languages and Literature, at mtebben@simons-rock.edu.
"We want to empower attendees to learn more about Berkshire-local and regional initiatives aimed at softening our impact on the planet in the realms of agriculture, forestry, food service, and feeding ourselves."

— Professor Maryann Tebben,
Center for Food Studies at Simon's Rock
Conference Sponsors
Thank you to our sponsors!
Funding provided by:
Berkshire Agricultural Ventures and ASFS (Assoc. for the Study of Food and Society)
Promotional partners:
Berkshire Grown
Great Barrington Agricultural Commission
Guido's Fresh Marketplace
Interested in the 2021 conference? Watch the videos here:
Field and Forest, October 2021
Preview Event: "Composting: Making Garden Gold" with Ronald Kujawski, horticulturist
Session 1:
Deb Roque, Justamere Tree Farm: "Why I left a conservation career to buy a farm"; Tom Ryan, DCR Service Forester: Mushrooms at Simon's Rock; and Michael Downey, State Forester: Agroforestry: Realizing the Greatest Good for Nature, Climate and Farm
Session 2:
Shamu Sadeh: Building Identity, Community and (Re)newed Spirituality at the Adamah Farm; Annie Novak, rooftop gardening, Growing Chefs.org; and Jeff Jourdain, Jourdain Forest Management, on silvopasturing
Session 3:
Leda Meredith, author and ethnobotanist: Foraging Wild Edible Plants of the Northeast in Autumn; Diamonique Lundy of SoLo's Food, alumni of BHSEC Newark: Eating to Live; and Will Conklin, Greenagers and April Hill Conservation Center: Reconnecting Forestry and Local Agriculture: Extending Sustainability to Local Timber Resources and Supply Chains
Keynote Address: View Recording
By Emily M. Broad Leib, Clinical Professor of Law and Faculty Director, Food Law and Policy Clinic at Harvard Law School. Author of the "Blueprint for a National Food Strategy"
Additional Resources