Equity and Inclusion
We believe that the rich multiplicity of identities and backgrounds in our community makes us stronger and enhances our experiences in and out of the classroom.
What does equity and inclusion mean to be you? How is the way you see yourself different from how others see you? How do you handle moments of diversity and difference? At Simon's Rock, we've been exploring these issues since our founding in 1966. The Council for Equity and Inclusion is built on a long tradition of encouraging dialog in areas related to racial equality, sexuality and gender identity, and social justice.
The Early College model compels us to center students' voices, invite unvarnished feedback about students' lives and experiences, and encourage students to lead and engage in critical discussions about how to build a more just and equitable society.
With the belief that every situation offers an opportunity for learning, we create spaces where every voice can be heard: in community meetings, social justice workshops, and CEI committee meetings, as well as in our classrooms, where critical engagement with ideas informs our conscientious engagement with the world.
Council for Equity and Inclusion
The Council for Equity and Inclusion (CEI) works to lead, sustain, and institutionalize inclusion and social justice efforts at Simon's Rock. We are committed to challenging longstanding societal assumptions in order to create an enriched community in which all ranges of opinion and belief can be expressed and debated.
CEI is made up of faculty, staff, and students working together on a wide range of initiatives. Council members represent a cross-section of staff from departments across campus including the offices of Admission, Career Development, Campus Life, Marketing and Communications, and Institutional Advancement. CEI also serves as a source of support for our student affinity groups.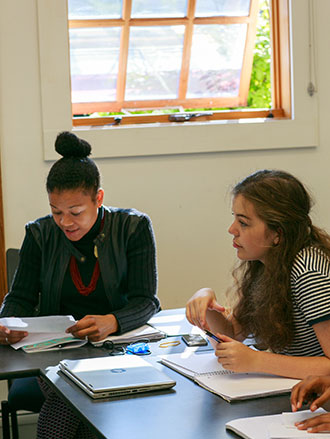 The Title IX Office is dedicated to preventing, responding to, and remedying occurrences of harassment, discrimination and sexual misconduct at Bard College at Simon's Rock and Bard Academy. The Title IX Office provides accessible, prompt, thorough, and impartial methods of investigation and resolution in response to formal complaints alleging violations of our Title IX and Equity Policies.
With a focus on gender equity, the Title IX Office provides educational and preventative programming for employees and students in collaboration with members of the Sexual Violence Prevention and Response, a sub-committee of CEI. The Title IX Office provides information and connection to services and support for individuals who have been impacted by gender and sex-based misconduct, including members of our community who have been impacted by sexual violence.