What does it mean to be you? How is the way you see yourself different from how others see you? How do you handle moments of diversity and difference? At Simon's Rock, we've been exploring these issues since our founding in 1966. The Council for Equity and Inclusion is built on a long tradition of encouraging dialog in areas related to racial equality, sexuality and gender identity, and social justice.
The Early College model compels us to center students' voices, invite unvarnished feedback about students' lives and experiences, and encourage students to lead and engage in critical discussions about how to build a more just and equitable society.
With the belief that every situation offers an opportunity for learning, we create spaces where every voice can be heard: in community meetings, social justice workshops, and CEI committee meetings, as well as in our classrooms, where critical engagement with ideas informs our conscientious engagement with the world.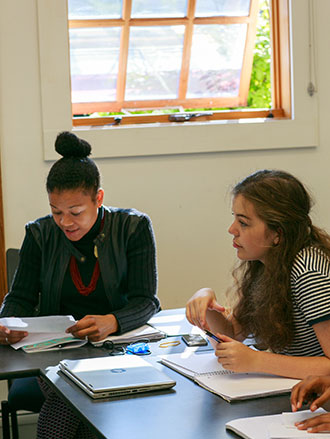 Eden-Reneé, dean of CEI, works with student