The German Studies concentration considers the language, history, cultures, art, and philosophy of the German-speaking people.
These can best be understood by placing German, Austrian, and Swiss cultures within a larger European context. As a result, this concentration is interdivisional and may include courses in the arts and in social studies.
Students who elect this concentration typically enroll at an institution of higher learning in one of the German-speaking countries. In recent years, students have successfully participated in the study-abroad programs run by the University of Massachusetts in the Southwest of Germany (Baden Württenberg) and by the Philipps-Universität Marburg in Hessen, Germany. Students have enrolled in German as a second language classes and in literature, music, architecture, chemistry, and physics classes. Some students have opted to take courses offered in English, especially if they felt that their German-language skills were not strong enough yet.
Students may also wish to explore two programs in Berlin: the Bard College system's newest addition, Bard College Berlin and, for those with advanced language skills, the exchange program with the Humboldt-Universität in Berlin. The German Studies concentration may be effectively combined with one in cross-cultural relations, European studies, linguistics, literary studies, modern studies, or with another world language.
Related career paths
Students with a concentration in german studies may enter into such fields as business, government, education, analysis, research, and advising.
Curriculum
The concentration is designed primarily for students who want to spend a semester or preferably a year abroad in a German-speaking country and who have developed sufficient skills in the language. Heritage learners, i.e., students who grew up speaking German at home in America, have also selected this concentration and taken advantage of an opportunity to spend a year in Germany, Austria, or Switzerland to broaden their knowledge of their heritage culture and to further develop their skills in German. Given the limited number of German classes offered at Simon's Rock, students are encouraged to consider taking advantage of the German offerings at the Annandale-on-Hudson campus.
Course Spotlight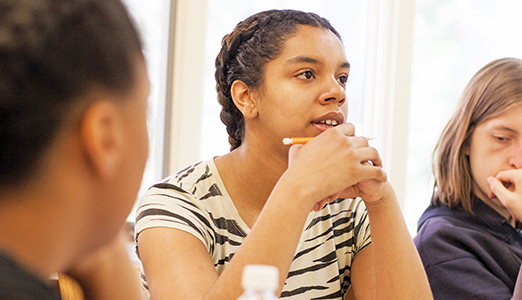 German 100–101: Accelerated Beginning German I and II
This course introduces students to German grammar and basic vocabulary. Conversational German is stressed. Students also acquire reading skills through exposure to short stories by such authors as Bichsel, Hesse, and Borchert, and view contemporary short films. The class meets four times per week.