Linguistics is the study of language. Studying language enables us to understand the ways in which people encode their experience, communicate their sense of the world, transmit knowledge, and interact with each other.
Linguistics investigates the range of patterning found in systems of sound, structure, and meaning in languages. The goal of linguistic study is both specific and general: Linguists attempt to describe the structure of specific languages in order to generate theories about universal characteristics of human language and to gain insight into the functioning of the human mind. Although linguistics is not the study of any particular language or language family, knowledge of or familiarity with particular languages informs the understanding of the possibilities of linguistic form and meaning.
Subdisciplines within the field focus on such issues as the history of a language or language family; cultural assumptions coded in words and texts; language variation within a community based on region, gender, class, race/ethnicity; and language acquisition and language teaching. The concentration in linguistics acquaints students with theories of language, techniques of linguistic analysis, and applications of linguistic knowledge and method to cultural, social, and pedagogical issues. Courses that are included in the concentration focus on topics in theoretical linguistics; philosophy of the mind; historical linguistics; analysis of language in its social, cultural, and political contexts; and the practical application of linguistic findings in teaching language and in the acquisition of native and foreign languages. The linguistics concentration is ideally complemented by existing courses in foreign languages, anthropology, sociology, and literature like American studies, Asian studies, creative writing, cross-cultural relations, European studies, French and Francophone studies, German studies, literary studies, Russian studies, and Spanish and Latin American studies.
Related Career Paths
Students with a concentration in linguistics may enter into fields and positions such as information technology, publishing, editing, speech pathology, research, interpretation, translation, computer programming, and advertising.
curriculum
A minimum of 19 credits is required for this concentration with six credits at the 300-level or above. Students concentrating in linguistics may devise a program of study that might include intermediate and advanced language courses, studies in anthropology or sociology that would complement the sociocultural analysis of language use, or work in psychology and cognition.
Course Spotlight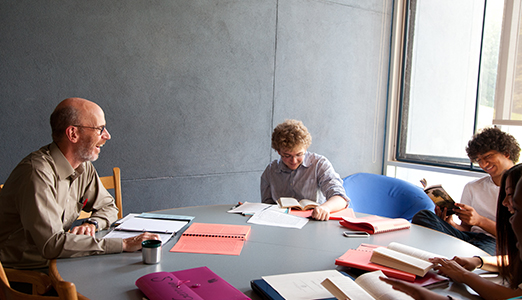 Linguistics 216: Language and Power
This course examines interconnections between language and power relations. Language form and linguistic usage are shown to be influenced by contextual features of inequalities in the social power of participants. Linguistic usage is informed by such parameters as class, gender, race, ethnicity, and social status as demonstrated by casual and formal interactions in everyday contexts as well as in institutional settings such as medicine and law. The role that language in the media plays in solidifying and furthering social and political power relations will also be studied. Prerequisites: One course in social studies or linguistics.