Submit Common Application
If you are using the Common Application, fill out the My Colleges And Common App Tabs and then submit your application.
My Colleges Tab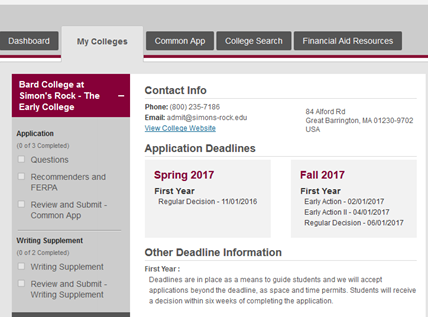 In the Common Application, fill out the following sections under the "My Colleges" tab for Bard College at Simon's Rock.
Questions
Recommenders and FERPA
Review and Submit.
Adding Bard College at Simon's Rock
If you create an account through the Simon's Rock Common Application link, Bard College at Simon's Rock will be automatically added to "My Colleges." Otherwise you add Bard College at Simon's Rock by selecting "College Search" tab, search for "Bard College at Simon's Rock," then select the check box, and click "add."
Recommenders
We require four recommendations. Two recommendations must be from teachers of two different core academic subjects (English, foreign language, math, science, or social studies); one must be from a current teacher. The third, nonacademic recommendation is completed by another adult, such as an extracurricular activity advisor or work supervisor. The fourth is completed by your school guidance counselor.
In the Common Application, prior to submitting your application, identify who will be writing your recommendations. The actual recommendations can be submitted after you have submitted the application.
The application and other materials can take up to 24 hours to show up on your account. In addition, since letters of recommendation (including your parents' statements) come from outside sources it can take some time for submission to take place. With this in mind, we encourage you to give your outside recommenders plenty of time to write a well thought out recommendation on your behalf and to send them a thank you note shortly after you make the request. (Not only does this show good manners on your part, but it serves as a subtle reminder to your recommenders to write and submit a recommendation on your behalf.)

Common App Tab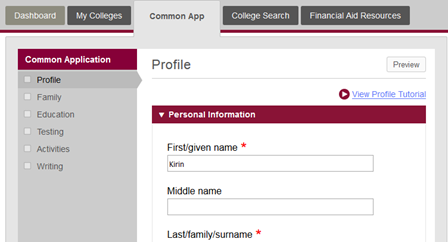 Fill out the following sections under the "Common App" tab.
Profile

Family

Education

Activities
Writing
We do not require the Personal Essay under "Writing." After you submit your application, we do require the writing supplement.
Making Changes
Once you submit the Common Application, you will not be able to edit most data you've entered directly, like your courses in progress, your recommenders, or your current activities. It is possible to make some changes to your essays through the Common App. Don't worry, if you need to change something, we can do so on your behalf behind the scenes. Simply email your admission counselor or admit@simons-rock.edu.
Questions? We're here to help.