First Year Seminar
Designed for the minds that question everything.
Joining an intellectual community means grappling with big ideas. That's why all incoming Rockers participate in a First Year Seminar sequence that fosters active discussion around some of humanity's most crucial questions.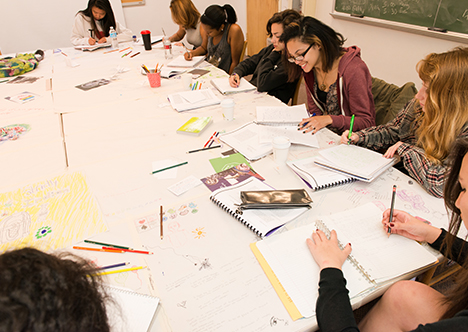 Across two semesters, you'll engage with a variety of works that embody diverse styles and perspectives, representing a range of academic disciplines. In small-group discussions, you'll discover that your opinion not only matters, it's essential to meaningful discussion with your peers. Together, you'll hone your abilities to read, think, and write critically.
Don't be surprised when classroom discussions carry over to the dining hall, residence halls, and the student union, as you and your peers deliberate on a variety of topics: Science and Belief. Gender and Power. Nature and Culture. The Individual and the State. Race and Justice. The Real and the Surreal. It's not about finding conclusive answers. Instead, you'll discover the questions that you're most eager to explore as your education progresses.
In other words, by the time you complete Seminars 1 & 2, you'll realize the conversations have just begun.
Seminar 1
What it means to be human
Seminar 1 sets your education in motion. It's your first of many opportunities at Simon's Rock to delve deep into questions that matter. You'll encounter works drawn from classical Greece, Song dynasty China, Renaissance England, and 20th century America, as you explore the complex and ever-changing question of "What it means to be human."
Because every text is an invitation to intellectual inquiry, you'll learn to make connections among seemingly distinct fields of study. For instance, an encounter with the imagery and poetry of Early Spring, an 11th century Chinese scroll, is likely to generate critical discussions about history, memory, art, perception, translation, authorship, and more.
You won't find easy answers, but you will learn to express your ideas convincingly and confidently in speech and writing.
Seminar 2
Introduction to the Modern
Seminar 2 deepens your investigation of what it means to live as an individual and member of society. With significant works of social theory, fiction, opera, and performance art as catalysts, you'll explore the concept of "modernity" and its many dimensions, including the contested notion of "progress."
Writing-intensive in nature, Seminar 2 builds the skills in close reading and critical analysis that you will need throughout your college career. Through open discussion based on mutual respect, you'll learn to situate your views in relation to those of your peers, of the artists and authors of the core texts, and the history of ideas.
Rockers are encouraged to be intellectually adventurous in shaping their academic paths. That's why the seminars are interdisciplinary by design, taught by faculty who specialize in many different fields, from Slavic Literature to Photography to Economics and Environmental Studies.
Many students are inspired by the seminar experience to design an individual program that includes advanced work in several areas, leading to an original thesis illuminating a topic of particular interest to them.