Celebrated cartoonist shares her experiences at the Rock
Alison Bechdel '77
MacArthur Fellow
Simon's Rock alum Alison Bechdel '77 was already a critically lauded groundbreaking cartoonist (via the hilarious/heartbreaking syndicated comic strip Dykes To Watch Out For), when in 2006 she published Fun Home: A Family Tragicomic, a painstakingly intricate examination of family dynamics in her childhood home (focusing on her closeted bisexual father's suicide and her own simultaneous coming-out as a lesbian), which was named Time magazine's Best Book of 2006, and was a finalist for the National Book Award.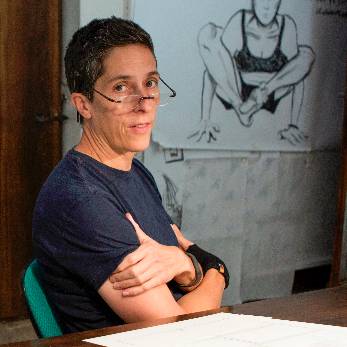 Fun Home brought Bechdel a higher level of cultural recognition (including Guggenheim and MacArthur fellowships), and was adapted into a Broadway musical that opened April 2013 and won five Tony Awards, including "Best Musical." We caught up with the Vermont resident somewhere on the road where, despite her busy schedule, she was kind enough to make time to answer a few of our questions about her days as a Simon's Rock student.


How did you find your way to Simon's Rock? Why was early college for you? What did your parents think of that choice?
My parents were very glad to send me off to early college. We found out about Simon's Rock because my uncle, Ed Misch, had just started teaching there in the mid-1970s. I was in high school at the time. My parents brought me for a visit, and we were all pretty ecstatic.


What was your experience at Simon's Rock? Did you have favorite professors or classes?
I had a deeply enriching experience at Simon's Rock. I had some amazing teachers. Doreen Young got me all excited about art history in her Art Epochs class. John Paskus taught me how to write in my freshman English class, Mythology and Archetypal Experience. He mostly gave me C's, and I was often baffled in class, but by the end of the year I wrote a semi coherent paper for him and managed a B+/A-. I did surprisingly well in physics, for an art major, under Eileen Handelman's bracing tutelage. But my most favorite classes were the ones I took with Arthur Hillman and Bill Jackson. I studied printmaking and book art with Arthur—those classes laid a very strong foundation for the work I went on to do. With Bill I studied figure drawing—also great groundwork—and aesthetic focus. The latter was not a studio class, but taught me a lot about how to think and talk about art.


How did the things you learned/experienced at Simon's Rock affect/inform your life or work?
Arthur's book art class taught me a LOT about cartooning, as it happens. Comics are basically artist's books—books that are, on some level, handmade, thoughtfully crafted, engineered so that certain things appear on certain pages. Learning to not just illustrate a book but to make it—to fold and stitch and glue the physical book together—was revolutionary for me.


The detail in Fun Home is unnervingly accurate, like going back in time. What is your research process for recapturing the past?
My research process is extensive, and probably a little obsessive-compulsive. Google Image Search has altered my creative DNA, enabling me to look up visual references for anything in the universe—including the Chumley's doorway. So I do. I'd like to become a little less dependent on this constantly accessible picture file. But it's so seductive.