The CFaR is a new initiative on campus to create a center dedicated to exploring sustainable ways of living, the future of food and agriculture, and community connections. It will include and expand the existing Center for Food Studies and incorporate the campus Community Farm.
WHO WE ARE
Director: Maryann Tebben
Farm launch manager: Monique Bosch
Founded 2022
WHERE WE ARE LOCATED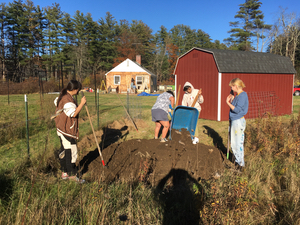 Headquarters are in the remodeled Pond Cottage next to the campus farm with a large open space for meetings and workshops and co-working space for students. The HQ will include a washing station for farm produce and prep areas for honey processing. The Center itself, including the surrounding land and trails, will host workshops and events, guided visits, or invite visitors simply to be inspired and recharged in nature.
WHAT WE DO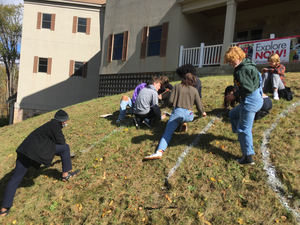 The CFaR will host regular events, including the established ThinkFOOD conference in the fall and a new "Framing the Future" conference in the spring as well as community programs with local partners, weekly best practices workshops on gardening and living sustainably, performances in the garden, and student-led events.

HOW WE CONNECT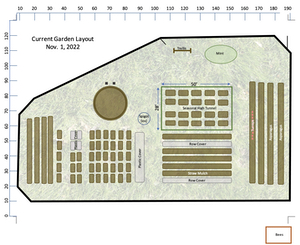 The current campus farm will be reorganized and expanded to include a teaching garden, production garden to provide food for the dining hall and People's Pantry in Great Barrington, and test plots for student projects. The Farm Launch manager, Monique Bosch, will oversee the initial programming and will coordinate events with students. She comes to us from NOFA-CT (Northeast Organic Farming Association of Connecticut), is an expert in soil science, and has helped build community gardens in Rhode Island and Connecticut.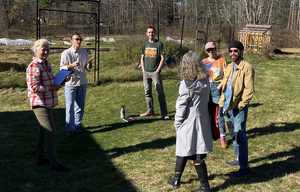 The Garden of Ideas, in various locations on campus, will connect the current farm acreage to other natural spaces on campus, including the Interpretive Trail and other established woods trails, the orchards and garden space near the Daniel Arts Center, and the pond system which will undergo its own transformation as the dams are removed. The Garden of Ideas will feature student and community artwork, sculpture, quotes, etc. It will invite visitors to learn about the campus ecosystem and be inspired by beauty, function, and design.