Council for Equity and Inclusion
We believe that the rich multiplicity of identities and backgrounds in our community makes us stronger and enhances our experiences in and out of the classroom.
The Council for Equity and Inclusion (CEI) works to create, build, and support a welcoming environment at Bard College at Simon's Rock for all students, faculty, and staff. CEI is made up of faculty, staff, and students working together on a wide range of initiatives. Council members represent a cross-section of staff from departments across campus including the offices of Admission, Career Development, Campus Life, Marketing and Communications, and Institutional Advancement. CEI also serves as a source of support for our student affinity groups.
Equity and Inclusion at Simon's Rock
What does it mean to be you? How is the way you see yourself different from how others see you? How do you handle moments of diversity and difference? At Simon's Rock, we've been exploring these issues since our founding in 1966. The Council for Equity and Inclusion is built on a long tradition of encouraging dialog in areas related to racial equality, sexuality and gender identity, and social justice.
The Early College model compels us to center students' voices, invite unvarnished feedback about students' lives and experiences, and encourage students to lead and engage in critical discussions about how to build a more just and equitable society.
With the belief that every situation offers an opportunity for learning, we create spaces where every voice can be heard: in community meetings, social justice workshops, and CEI committee meetings, as well as in our classrooms, where critical engagement with ideas informs our conscientious engagement with the world.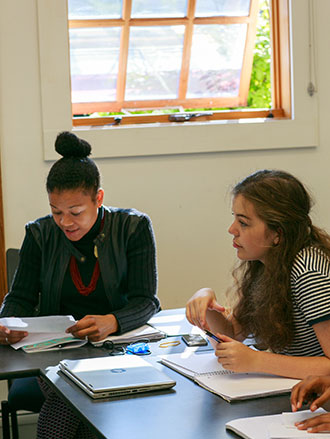 Eden-Reneé, Dean of CEI, works with student
Partnership with Alumni Library
CEI works with the Alumni Library at Simon's Rock to make resources available to faculty, students, and staff, including course guides related to equity and inclusion. For more information, visit the Alumni Library or speak to a staff member.
Contact
Eden-Reneé Hayes, Ph.D.
Dean of Equity and Inclusion
Hall College Center
William Syldor-Severino
Co-Chair, Council for Equity and Inclusion
Hall College Center
CEI Subcommittees
The CEI subcommittees are made up of students, faculty, and staff. Subcommittee members volunteer their time and energy, adding immeasurably to the culture and environment on campus. We move our initiatives forward with a commitment to shared responsibility. Subcommittees include:
LGBTQIA+
Positive Education
Race
International
Symposium on Equity and Inclusion Week
Diversifying the Curriculum
Initiatives
CEI is working to foster greater equity and inclusion at Simon's Rock. Our initiatives come out of ongoing conversations about how to improve our community for every member.
We are advancing the following initiatives from the Bard College at Simon's Rock Strategic Priorities:
Conduct annual trainings in cultural competency for new and returning students, faculty, and staff.
Establish best practices for recruitment and retention of underrepresented faculty and staff.
Evaluate and update annual admission recruitment strategies with diversity as a key goal and communicate the importance of equity and inclusion as part of our values as an institution.
Forge strategic partnerships to advance regional and national equity goals.
We are also working actively on projects related to the following initiatives:
Expanding gender inclusive housing and increasing the number of gender inclusive restrooms. Currently, first year students are assigned housing and paired with roommates based on their gender identity. We have residence halls with many different gender configurations and work with students to find the best fit.
Increase the use of positive education.
Supporting international, DACA, and undocumented students.
Annual Events
At the heart of an equitable community are communal spaces where we can listen, share, and learn from each other. The following events take place each year, thanks to the contribution of CEI volunteers. These events provide opportunities for connection, strengthen our community, and give us a firm foundation for continuing to build a more responsive and inclusive Simon's Rock.
Pride Week (Inaugural year: 2017)
Character Strengths Day
Get Involved
Equity and inclusion are everyone's responsibility. Do you have an idea for an event or initiative? Are you ready to volunteer on a subcommittee? Your first step: attend a CEI meeting. Meetings are open to everyone in the Simon's Rock community.
CEI meetings are held biweekly on Thursdays
Contact CEI for time and location
cei@simons-rock.edu
Learn More
Ready to learn more about inclusion? Take Harvard's Project Implicit test to become more aware of your implicit associations. For resources and historical documents related to inclusion at Simon's Rock, students, faculty, and staff can visit MySimonsRock.
Simon's Rock Nondiscrimination Statement
Bard College at Simon's Rock does not discriminate in admission, employment, education or services on the basis of race, color, sex, creed, age, gender identity or expression, sexual orientation, religion, national or ethnic origin, disability, marital status, genetic information, previous military service or any other class protected under state or federal law. College policy is consistent with state mandates as well as federal statutes and regulation, including but not limited to Executive Orders 11246 and 11375 as amended, Massachusetts Executive Order 74, Section 504 of the federal Rehabilitation Act of 1973, the Americans with Disabilities Act, Title IX of the Education Amendments of 1972 and Titles VI and VII of the Civil Rights Act of 1964.