Student Internship Options
Internships
At Simon's Rock, you'll be encouraged to relate your studies to the world outside the classroom.
Internships give you valuable experience working with experts and professionals. Your professors and advisors have strong ties and relationships with businesses, institutions, and artistic companies both locally and around the world, and they can help you find that perfect placement.
"You can trust yourself. You can do all of the great things that you have imagined and you can push yourself to imagine even greater things beyond that. Go intern with the United Nations, or go study in Kenya, or go work in a senator's office, or go live in a country where you don't speak the language, go do it. Do what any other Rocker would do…"

-Mia '10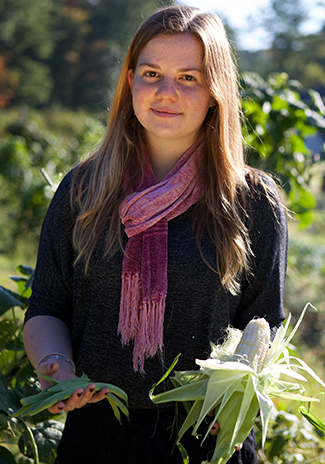 You might spend a summer doing hands-on research with a professor, or find a placement through our tight-knit network of Simon's Rock alumni. Maybe you'll want to connect with one of the many nonprofit organizations or cultural institutions in our Berkshire community, or live and work in an urban center somewhere else on the planet for a period of time. The Office of Career Development helps you find—and score—great internship opportunities. After your third semester, you'll be eligible to pursue an internship. Some can be approved for academic credit as Extended Campus Projects (ECPs).
"Hopefully, I will be in the medical field 10 to 20 years from now. I'm debating between going into the operating room, going into surgery, or the emergency room. Simon's Rock has prepared me in a lot of ways. One way was through internships. [At the local hospital], I was in the operating room and the surgeons are very down to earth and they explain a lot."

-Mika '12

Rockers have helped organize the Berkshire International Film Festival and studied directing at Shakespeare & Company; they've worked in publishing at Random House; gotten their hands in the soil at sustainable farms in New England and farms overseas; they've researched in labs from MIT to Hanover, Germany and developed nanopores at UPenn; they've interned with senators and done policy work with Amnesty International, environmental organizations, the Mexican-American Legal Defense Fund and the Washington Center for Learning Alternatives (among other places); worked with mental health nonprofits and volunteered at an orphanage in Honduras; worked in businesses and museums; and taught english all over the globe.
What will you do?