Leading the Way for Women in STEM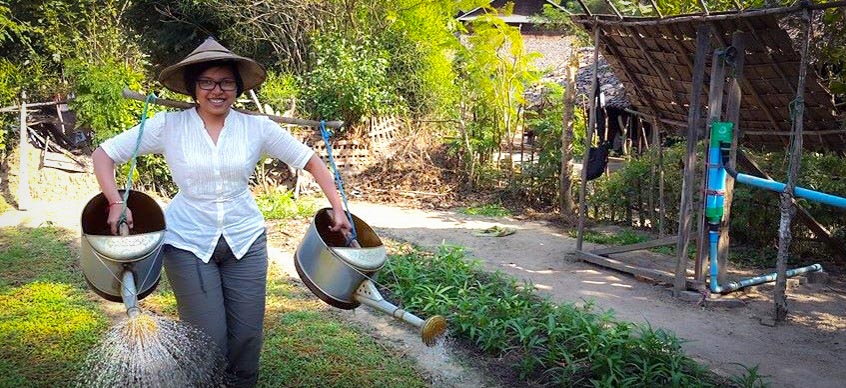 Phyu Hninn Nyein '05
Recipient, Women of the Future Awards, South East Asia
During her math and biology classes at Bard College at Simon's Rock and now as a team leader at a nonprofit, Phyu Hninn Nyein's road to success has been filled with the opportunity to help others.
In recognition of her efforts, the inaugural Women of the Future Awards, South East Asia recently presented Hninn with the Community & Public Service Award for her contributions as a community-spirited woman in business under the age of 35. The award recognized "her vision of the future, her awareness of the wider social impact of everything she does, and her humility."
Hninn returned to Myanmar in 2012 after her academic career in the United States and joined Proximity Designs. Since its foundation in 2004, the nonprofit has offered three platforms of service—advisory, technology, and finance—to 500,000 farms. As general manager of the Farm Advisory Services team, which was a pilot program until 2015, Hninn is dedicated to improving the lives of rural farmers in Myanmar, where 70 percent of the population is involved in agriculture activities.
On the Frontline of Innovation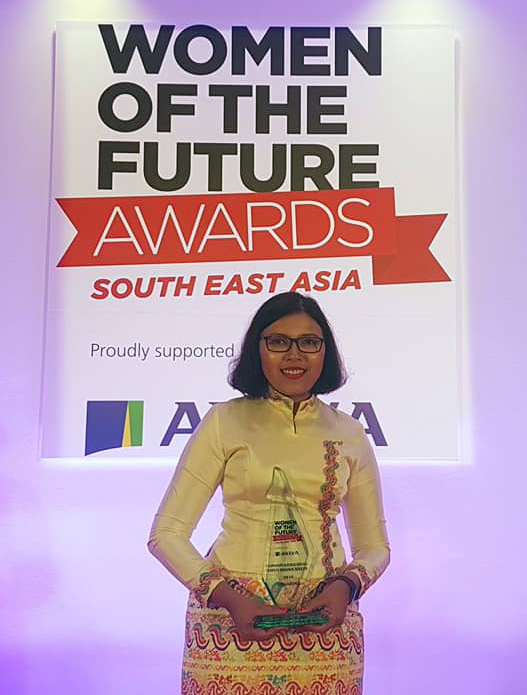 Now the largest agricultural services platform in Myanmar, Proximity Designs is at the forefront of farming technology. A new practice Hninn's team employs in the field is farming agronomy, which applies scientific methods and thinking to modern agriculture. Her team advises 150,000 small farms in 21 townships on climate-smart agriculture. Their aim is to eventually reach all 300,000 farms in those towns.
Hninn also credits the widespread accessibility to technology as a factor in farming advancements. There were no smartphones in Myanmar until 2014, but now her team of agronomists, soil scientists, farmers, and technologists is better equipped to help small farms negotiate market prices, government policies, and climate change, so that families can continue to farm for generations.
Gender Equity in her Workplace
Hninn was the first female member of Proximity Design's farm advisory team, and as she has risen through the ranks, has worked with the organization to address gender equity and awareness in the workplace. More women have been hired through recruitment efforts and developing hiring strategies with her male counterparts. Women now make up 40 percent of the team and 20 percent hold management positions. As a team leader, Hninn continues to support her female colleagues.
Citing that "talent shortages are more widespread in Asia than any other region—more than 48 percent of Asia Pacific employees say that talent shortages are posing difficulties in the hiring process," Women of the Future believes that women represent a large untapped resource. Its goal is to encourage, motivate, and provide role models to inspire and strengthen the female talent pipeline. By honoring their talents and successes, the program hopes to create a global community of supportive and collaborative women.
From Myanmar to Simon's Rock
"Everyone really invests their time and energy in you, and shows genuine concern."

-Phyu Hninn Nyein

Hninn's brother and sister both studied in Singapore and her parents expected her to as well—until she heard about Simon's Rock. Hninn met Ba Win, vice president of Early College Policies and Programs, as he was presenting during an application day at the American Center in Yangon, Myanmar. He took the time to meet with her parents to address their questions and determine if Simon's Rock was the right fit for Hninn.
Great Barrington may have been far away from Myanmar, but Simon's Rock made Hninn feel at home. What she remembers the most was that the community was like a second family—and when she visits, everyone remembers her. "Everyone really invests their time and energy in you, and shows genuine concern."
Accelerating in STEM
Hninn's parents are both engineers, so she learned early on how math can be used in everyday situations. She was excited to discover that she could further explore mathematics at Simon's Rock. "The math concentration is very personalized at Simon's Rock; I got so much attention and care from the professors," like Bill Dunbar, Allen Altman, and Robert Snyder. "Each class was like a tutorial." Hninn excelled in her classes and thrived.
Pairing math with biology was an unusual direction for a double concentration, but Hninn has always considered math to be a foundation of science. Beyond the classroom, she was involved in environmental conservation work along the Housatonic River in Great Barrington, and conducted research in molecular biology with Biology Professor Susan Mechanic-Meyers. Hninn was awarded the Rodney Christopher Scholarship to study away for a semester at Rockefeller University in New York City, where she did research in molecular genetics.
Hninn's senior thesis, "Tick-tock Goes the Clock: A Study on Circadian Rhythms," was an extension of her research work while studying away. She studied circadian rhythms in zebrafish with her thesis advisor, Biology Professor Joy Lapseritis '90, and surveyed students and their sleep patterns.
At Simon's Rock, Hninn received the Division of Science, Mathematics, and Computing Prize, given to a graduating senior for their outstanding performance in this academic division. She was awarded the Hutchins BA Merit Scholarship for demonstrating significant contributions to the Simon's Rock community, and was also the recipient of the Elizabeth Blodgett Hall and the W.E.B. Du Bois scholarships.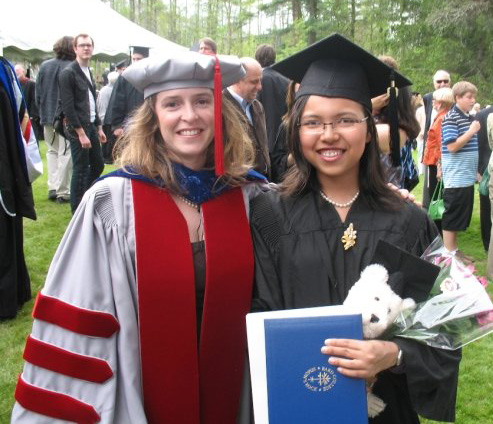 Opportunities to Grow as a Leader
Before pursuing her master's degree in Biostatistics at Boston University, Hninn worked as a research assistant at Harvard Medical School and then as a biostatistician at a biotechnology company. After joining Proximity Designs, she was charged with leading the Knowledge and Social Impact Team in conducting quantitative studies on a sample population.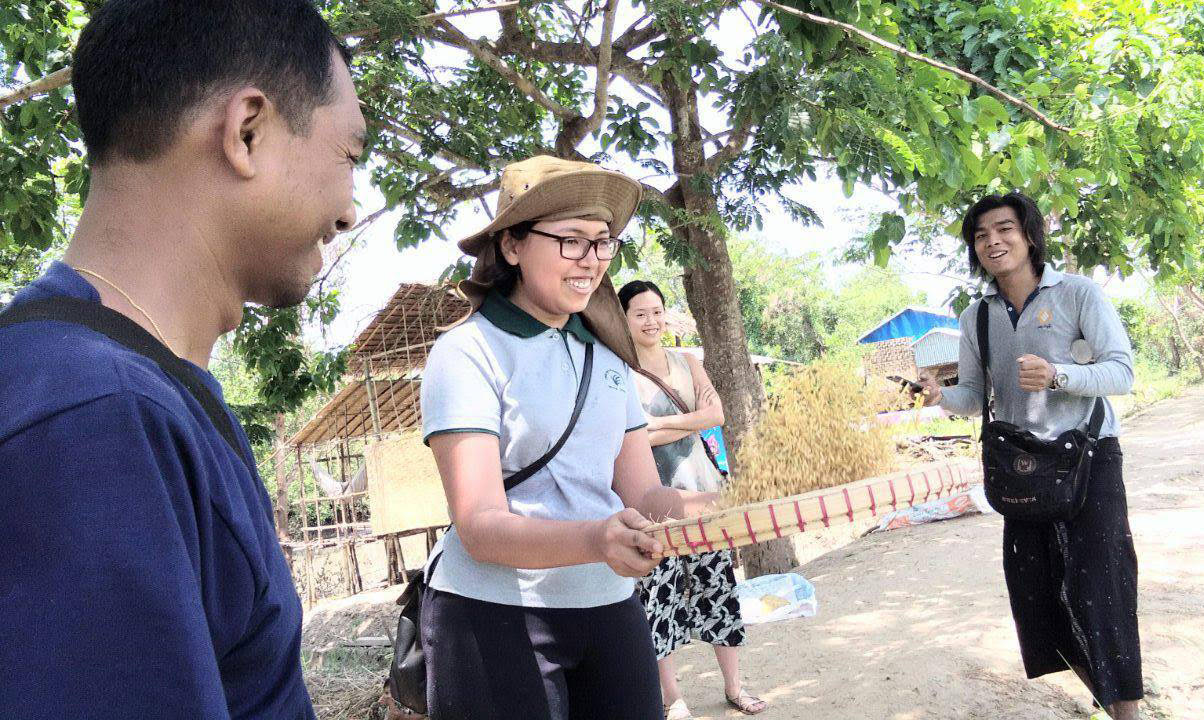 Hninn went on to earn a certificate in social entrepreneurship from INSEAD, one of the leading and largest business schools in the world, and a postgraduate diploma in strategy and innovation from the Saïd Business School of the University of Oxford.
Many hours spent in the classroom and lab, in-depth research, and working closely with her math and science professors at Simon's Rock have been contributing factors in Hninn's success at Proximity Designs. Her team focuses more on the science of farming technology, but at the national level, they also have to look at agricultural statistics. "Both math and biology are quite relevant in my work now."
The Women of the Future Awards showcases female trailblazers like Hninn who are facilitating positive global change. Accepting her award, she said, "I would like to point out that there are a lot of good people who are doing their best to move [Myanmar] forward, and I am really humble and very proud to be representing all of those people here tonight."
Hninn's path brought her back to Myanmar to help small farms become sustainable.