>
>
>
Campus Traditions
In many respects, Simon's Rock isn't the most conventional institution, but we do love our campus traditions.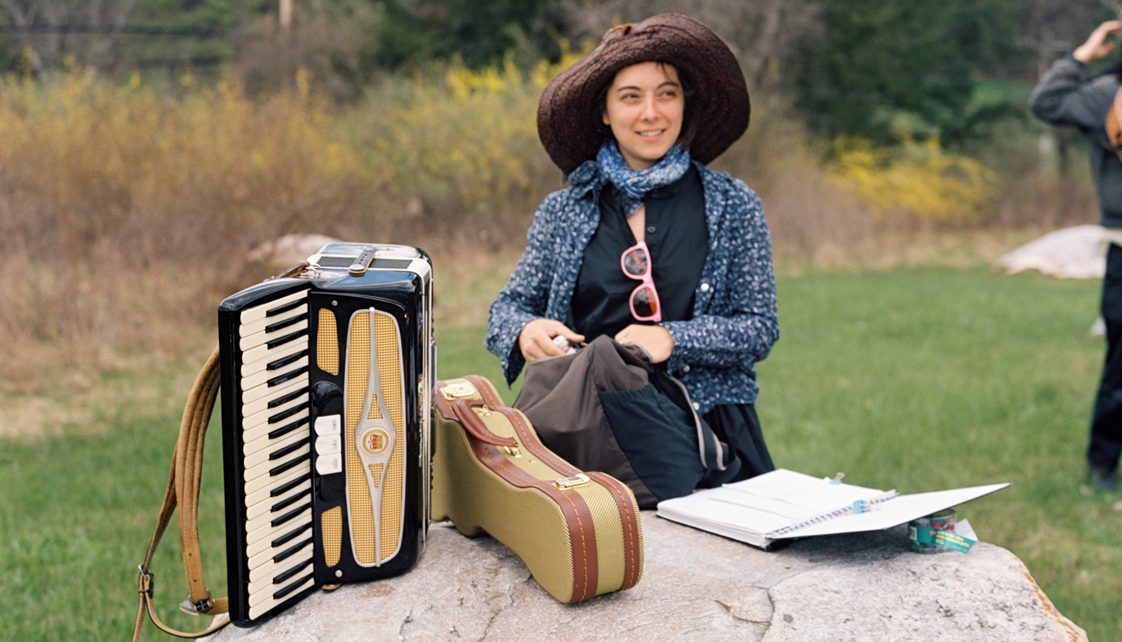 Book One
All incoming students read the same book over the summer, and the semester begins with a lively gathering with the author, students, faculty, and staff. The experience provides a common language and a touchstone for further conversations. We've welcomed celebrated writers like Chinua Achebe, Rita Dove, Teju Cole, and Emmanuel Dongala.
October is the time for gorgeous fall foliage, and for Family Weekend.
Humans vs. Zombies
Once (sometimes twice) a year, Rockers find themselves under siege from a zombie invasion. It's a ruthless game of tag in which students either join the zombie horde and try to catch humans, or work to preserve their humanity for the length of the multi-day game. Players wear bandannas to identify their ghoulish team status and complete missions to advance their apocalyptic agendas. HvZ—the campus tradition that's coming to get you…
Rock the Community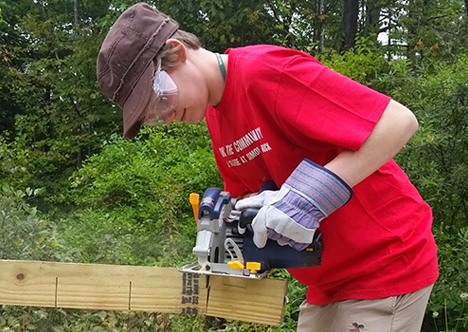 A designated day of service each September is a way for the Simon's Rock community to "give back" in the spirit of long-standing Board member and former Chair Emily Fisher, who dedicated so much to the college. Volunteers team up and head off to project sites across campus and across the county to improve gardens, trails and woodlands, build bridges, write letters to troops, visit area youth and seniors, and support nearby community organizations.
Dolliver Drag
Residents of Dolliver Residence Hall invite their fellow students to suit up, get glam, and strut their stuff. Rooted in a cherished Simon's Rock tradition, Dolliver Drag is a night of expression, embodiment, and performance.
Jazz Concert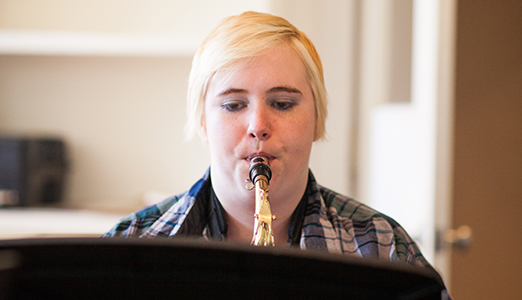 The Simon's Rock Jazz Ensemble, led by musician, composer, and professor John Myers has been jazzing up Kellogg Music Center with jazz that's hot, jazz that's cool, standards, and improv for generations of students.
Mayfest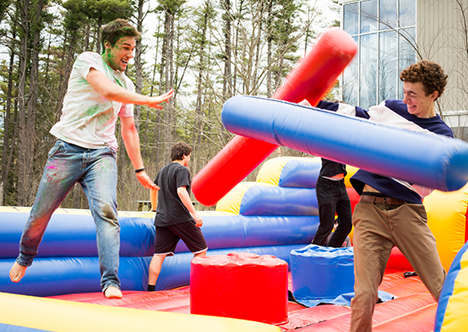 If April is the cruelest month, can we agree that for students, May is the most stressful? There's final exams, final projects, planning for the summer (and everything beyond). In the midst of all this, it's nice—no, crucial—for students to relax and have some fun. Thanks to our hard-working and fun-loving events coordinator, Val, Mayfest is a much-appreciated tradition that breaks the tension and rings in each spring.
Things warm up with the Dance Concert (see below) and keep going for a full four days of performances, celebration, good food, and bounce house carnival fun. Students do the time warp again with a Rocky Horror Picture Show screening, and get colorful during a Holi Festival Celebration. For those itching to break out the formal wear (defined liberally and creatively), there's even a formal dance with officially excellent music.
Ask a student about their favorite Mayfest celebration.


Dance Concert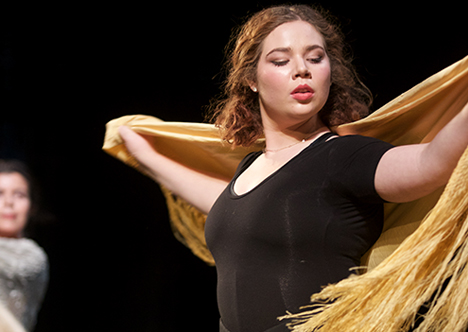 In the spring of 2015, we grieved the loss of our beloved dance professor, Wendy Shiffrin. Wendy created a Dance Concert like none other, a Dance Concert that was for everybody, and that welcomed the participation of the entire Rocker Community. The Dance Concert has become an enormously successful yearly celebration of dance, showcasing the hard work of dance students as well as the joys of playful self-expression. Dancers dedicated their spring 2015 performance to Wendy's memory, and we know that, going forward, her vision, warmth, and joy will continue to guide the spirit of the Dance Concert.
Senior Thesis Prank!
After a grueling year of research and writing, seniors hand over the fruits of their labor. The Academic Affairs guidelines clearly stipulate that all theses must be submitted by noon on the deadline date. Of course, the guidelines don't mention how the theses should be delivered, a loophole that has inspired rascally seniors to commemorate the end of their thesis project—and their four-year tenure—with an elaborate prank that makes the provost and dean jump through some (figurative and sometimes literal) hoops to collect the precious manuscripts.
Over the years, there have been scavenger hunts and peaceful absurdist coups; body-snatcher-style provost masks; water balloons and thesis-themed game shows. Seniors have turned lower campus into a helicopter pad (!), and they've managed to get provosts to sing, paddle out into the pond, complete any number of stunts, and unwittingly dig the first shovelful of community garden dirt. (They still haven't succeeded in selling the campus in a Classified ad, despite several attempts.) No provost, dean, or llama was harmed in the making of said pranks.
Graduation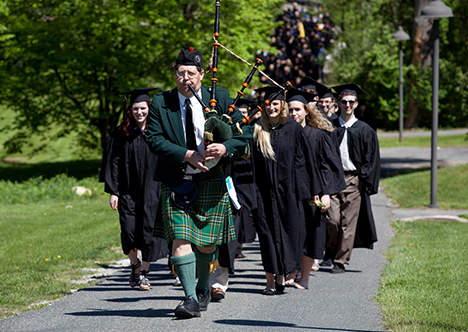 Every school has its own convocation traditions. Rockers make sure each year is marked with a formal dinner, thesis highlights—and, did we mention a procession led by a bagpipe player who just happens to be an alumnus and parent of an alum?
Reunion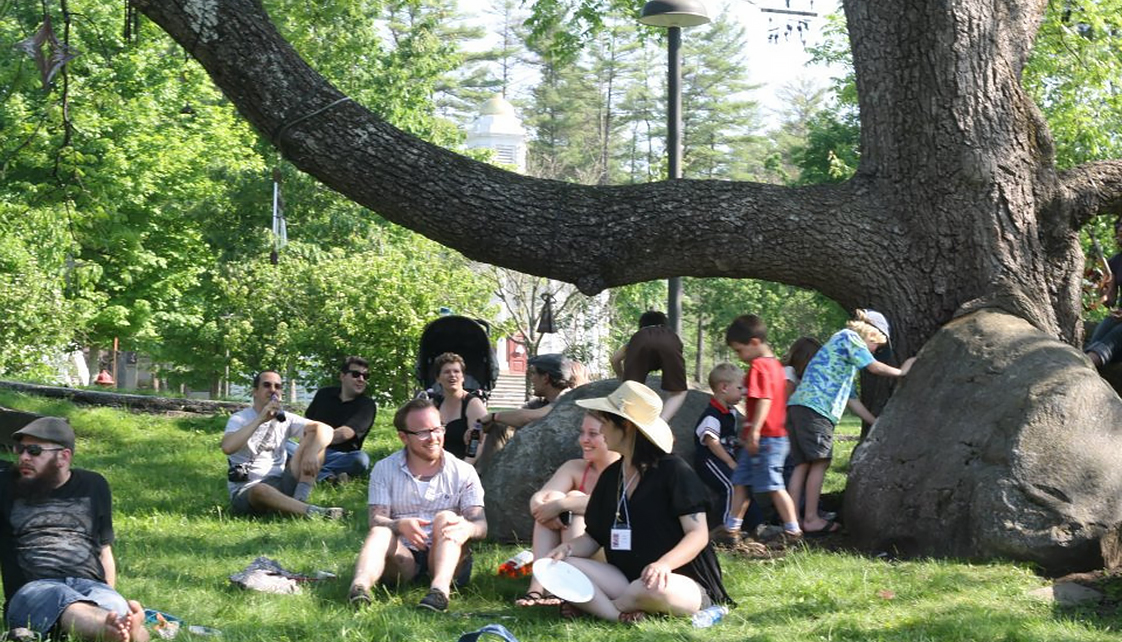 Rockers return to campus each summer, but reunion gatherings are open to all alums (not just graduates of a particular year). This means Rockers come back to campus to connect, as well as re-connect. The bond is deep, spans generations, and includes AA and BA grads alike.