W.E.B. Du Bois Lecture
William Edward Burghardt Du Bois (1868-1963), born and raised in Great Barrington, is one of the most important figures in American intellectual history and a leader in the civil rights movement.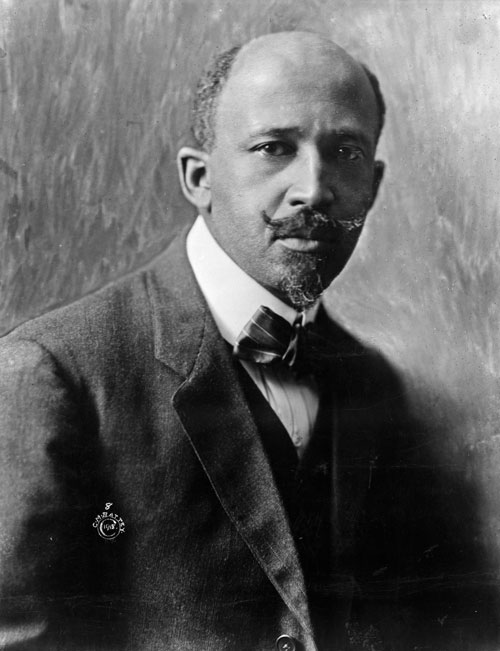 W. E. B. Du Bois in 1918
After graduating from Searles High School, he went on to earn a BA degree from Fisk University and a BA and MA from Harvard University. In 1895, he became the first African American to earn a PhD from Harvard. Over his long and controversial career, he served as editor of the NAACP's newspaper The Crisis from 1910 until 1934, and published an extraordinary range of books, including The Suppression of the African Slave-Trade to the United States of America (1896), The Philadelphia Negro (1899), The Souls of Black Folk (1903), Darkwater (1920), The Gift of Black Folk: The Negroes in the Making of America (1924), Dark Princess (1928), and Black Reconstruction (1935).
Over the years, Bard College at Simon's Rock has sought to honor the memory and legacy of this native son of Great Barrington by establishing a W.E.B. Du Bois Collection in African American literature and history in the library and establishing W.E.B. Du Bois scholarships for outstanding minority students. In 1996, the College established its W.E.B. Du Bois Memorial Lecture—to be given each year on or near Du Bois's birthday, February 23—which is presented by a distinguished individual whose own achievements carry on the legacy of Du Bois.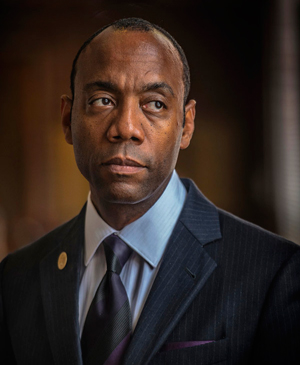 NAACP President Cornell William Brooks
2017 speaker
The 21st lecture was presented in partnership with the The Center for Early College at Bard College, the Berkshire County Branch of the NAACP, Multicultural BRIDGE, and the Town of Great Barrington.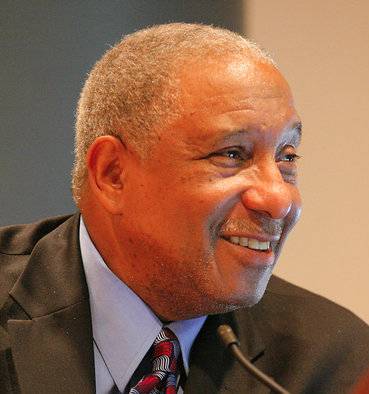 Dr. Bernard Lafayette Jr.
2016 speaker
The 20th lecture given by Dr. Lafayette who is a civil rights movement activist, minister, educator, lecturer, and an authority on the strategy of nonviolent social change.
2015: Whitney Battle-Baptiste, Associate Professor of Anthropology at the University of Massachusetts
2014: Penelope Andrews, 17th President & Dean of Albany Law School
2013: Richard J. Powell, John Spencer Bassett Professor of Art and Art History, Duke University
2012: Lewis Gordon, Laura H. Carnell Professor of Philosophy and Jewish Studies, with affiliations in African American Studies and Religion, Temple University
2010: Joan Countryman, former Head of Lincoln School, former Interim Head of the Oprah Winfrey Leadership Academy for Girls in South Africa
2009: Faith Ringgold, Professor of Art, University of California at San Diego
2008: John Edgar Wideman, Asa Messer Professor of Africana Studies and English, Brown University
2007: Yaw Bredwa-Mensah, lecturer and archeologist, University of Ghana
2006: Leon E. Wynter, journalist and essayist
2005: Tricia Rosem, Professor of American Studies, University of California at Santa Cruz
2004: Lani Guinier, Professor of Law, Harvard Law School
2003: Veronica Chambers '87, author and editor
2002: Manning Marable, Professor of History and Political Science, Columbia University
2001: John H. McWhorter '81, Associate Professor of Linguistics and African American Studies, University of California, Berkeley
2000: James H. Meredith, Founder & President of The Meredith Institute
1999: David Levering Lewis, Martin Luther King Professor of History, Rutgers University
Students interested in exploring the "real world" implications and emancipatory possibilities of their work can concentrate in Social Action, Social Change.
1998: David L. Smith, Francis Christopher Oakley Professor of English & Dean of the Faculty, Williams College
1997: Sonia Sanchez, Laura Carnell Professor of English, Temple University
1996: Roger W. Wilkins, Robinson Professor of History, George Mason University
The W.E.B. Du Bois Memorial Lecture is supported by a grant from The Spingold Foundation, Inc.