Learn to program, theorize about artificial intelligence, study algorithmic processes, explore the history of video games, and analyze complex biological data.
Students learn several languages including Python, C, and Java as well as the basics of functional programming. Students frequently supplement course work with classes in Mathematics and Pre-Engineering. Throughout the program, students expand and specialize based on their interests.
Computer Science Club hosts hackathon with Simon's Rock Alumni and Google developers.
Related Career Paths
The concentration provides the necessary background for graduate study in computer science and related fields, as well as for computing careers in business and industry. Recent graduates from the Simon's Rock program have secured a wide variety of positions ranging from engineering at Google to independent video game development.
Curriculum
Students completing the Computer Science Concentration take the prerequisite Introduction to Computer Programming and then three core courses: Discrete Mathematics, Algorithms and Data Structures, and an introduction to System Programming. Students must complete 24 Computer Science credits, 21 credits at the 200-level or above, with at least two courses at the 300-level or above.
In addition to regularly scheduled courses, students can pursue independent studies and tutorials as well as taking courses at Bard College at Annandale. Students with hardware or electrical engineering interests should take Analog and Digital Electronics. Students interested in electrical engineering should consider the Dual Degree Columbia University Engineering Program.
Course Spotlight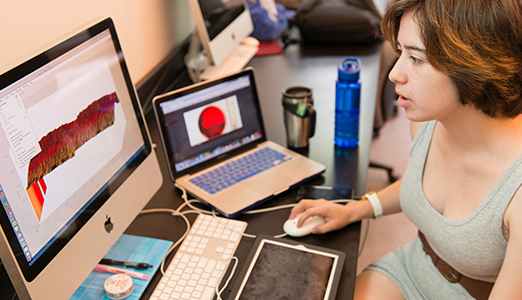 Artificial Intelligence
An examination of selected areas and issues in the study of artificial intelligence, including search algorithms and heuristics, game-playing, models of deductive and probabilistic inference, knowledge representation, machine learning, neural networks, pattern recognition, robotics topics, and social and philosophical implications.