The Association of American Medical Colleges states, "specific premedical course requirements... vary among medical schools, but all recognize the desirability of a broad education—a good foundation in the natural sciences (mathematics, chemistry, biology, and physics), highly developed communications skills, and rich background in the social sciences and humanities."
The minimum requirements are fairly strictly defined: "A solid understanding of modern concepts in physics, chemistry, and biology is mandatory, for major advances in medicine are based on principles stemming from these disciplines." Recognizing these facts and that many students enter Simon's Rock interested in pursuing a pre-medical course of study, the College has developed the curriculum in the pre-medical concentration to assure that those who complete the requirements successfully will have the necessary breadth of science and mathematics backgrounds required for medical school admission. However, the concentration only provides the course load in the natural and behavioral sciences that a student who desires to pursue a pre-medical program should undertake. Careers studying and treating disease and managing health care demand ever-increasing knowledge and skills. It is strongly recommended that this concentration be taken in conjunction with other courses in the science—particularly for those interested in medical research. Those planning to practice medicine may find courses useful in fields that develop understanding of the complexities of human nature, whether psychology, anthropology, sociology, politics, or literature and the arts.
Related Career Paths
Students in the Pre-Medical Studies concentration may enter into fields such as medicine, research, public health education, teaching, and law.
Curriculum
The pre-medical concentration includes a minimum of 55 credits of coursework including:
Required Courses
Biology 100 Introduction to the Life Sciences
Biology 201 Cell Biology
Biology 312 Biochemistry
Chemistry 100-101 Chemistry I, II
Chemistry 302-303 Organic Chemistry I, II
Mathematics 110 Introduction to Statistics
Mathematics 210-211 Calculus I, II
Natural Science 410 Research Methods
Physics 100-101 Physics I, II
Psychology 100 Introduction to Psychology
Either one of the following
Psychology 205 Developmental Psychology
Psychology 206 Social Psychology
Highly Recommended
Psychology 221 Cognitive Psychology
The student is encouraged to take as many courses from the list below as fit into their electives, chosen in consultation with the Moderation Committee:
Biology 202 Genetics
Biology 203 Invertebrate Zoology
Biology 204 Vertebrate Zoology
Biology 206 General Microbiology
Additional Psychology or Social Science courses
Course Spotlight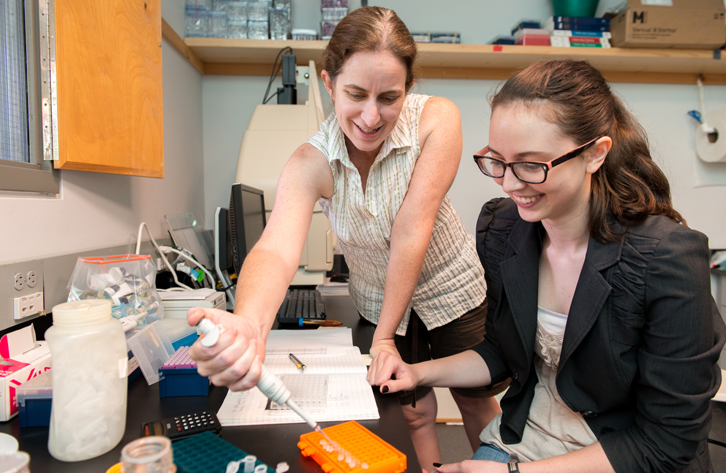 Biology 202: Genetics
In this course, you will focus on the development of traits and how those traits are passed between parent and offspring (transmission genetics), as well how the genetic makeup of populations changes over time and geographic space (population genetics/evolutionary genetics).