Translating Literary Voices to Spark Social Justice Activism
Caleb Sabatka '17
How Unlocking a Language Led to Life-Changing Possibilities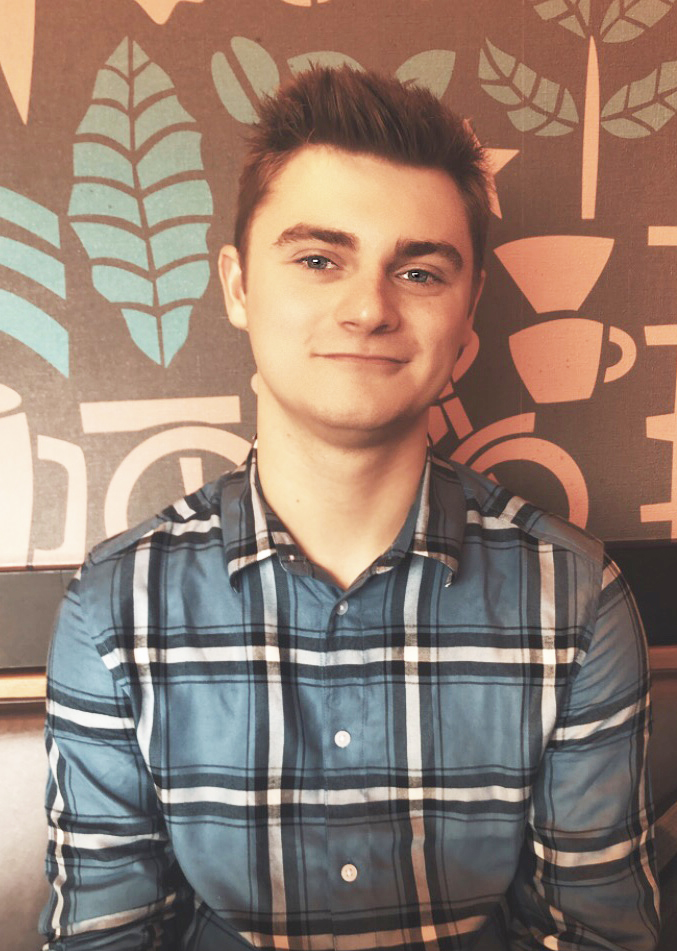 Growing up in Dubois, Wyoming—a rural mountain town of fewer than 1,000 people and separated from the next town by 80 miles—Caleb Sabatka was drawn to a wide range of academic interests from the start, from English to social studies to foreign language. He cultivated a particular affinity for the poetry of the famed Chilean literary master, Pablo Neruda, with a determination to read the original works in their native tongue, Spanish.
But as Caleb prepared to enter his local high school, it became clear that the academic challenges he sought were few and far between. Unable to take advanced coursework or foreign languages, he turned to a study abroad program at Cambridge University the summer after eighth grade.
The experience at Cambridge was so enriching that Caleb began looking for similar offerings, and came upon the Young Writer's Workshop at Simon's Rock. Though he didn't ultimately join the workshop, Simon's Rock beckoned. During the first two years of high school, Caleb was persistent in asking his parents to consider letting him enter college early at Simon's Rock.
So after completing his sophomore year, they did, with an understanding that he would complete the associate degree program and transfer to another college to earn his bachelor's degree.
Discovering the World of Simon's Rock
The transition from Wyoming to Western Massachusetts was a relatively easy one for Caleb. He recognized a familiarity in the bucolic beauty of the Berkshires as much as in the Wind River Country of Wyoming. As for what he found on campus: "I was really struck by the students at Simon's Rock—how focused they were on pursuing their own opportunities and blazing their own path based on academic interests, and the support we had from faculty to do that," says Caleb.
At Simon's Rock, he was free to dive into previously inaccessible academic fields. When it came time to declare his concentration, Caleb realized he had already accrued more than half of the requirements for a concentration in cross-cultural relations, which had a close connection to another emerging passion of Caleb's: translating Spanish literature. With the help of faculty in creative writing and literature and German translator, Peter Filkins, Caleb decided to self-design a secondary concentration in literary translation. By the beginning of his sophomore year at Simon's Rock, everything was going according to plan.
He was well on track to earn his associate degree and had even been accepted to his first-choice transfer school to complete his bachelor's degree. But just before winter break, Caleb attended a life-changing event on campus.
A Social Justice Activist on Campus Changes Everything
Every year, Simon's Rock students, faculty, and staff come together for a week-long gathering to discuss and act on pressing topics related to social justice, identity, and inclusion, known as Symposium Week. Symposium Week's keynote speaker during Caleb's sophomore year was Jackie Wang, activist, Black studies scholar, and author of Carceral Capitalism, a collection of essays on the political economy of the U.S. prison system.
The chance to speak with Jackie on campus and read Carceral Capitalism changed Caleb's worldview. It convinced him that he would dedicate his life to finding an alternative approach to the criminal justice system and to revolutionizing the contemporary prison apparatus writ large.
He remembered reading something about "restorative justice"—an emphasis on the rehabilitation of offenders reconciliation with victims and reflection, rather than harsh punishment—and realized that Simon's Rock has a dual degree program with Vermont Law School, in which students can earn a bachelor's degree from Simon's Rock in three years and a master's degree from Vermont Law in one year. One of the four programs on offer was a Master of Arts in Restorative Justice.
At this point, Caleb knew that "everything I wanted to do was possible at Simon's Rock." He also found a strong support network in faculty mentors and advisors who helped him connect the extensive work he was doing in cross-cultural relations and literary translation to the dual degree program.
"I credit Simon's Rock with giving me the little push I needed to do what I'm going to do with the rest of my life."
Using Literary Translation as Activism
Caleb wrote his senior thesis on the life and work of Juan Tomás Ávila Laurel, an exiled writer from Equatorial Guinea, and how translation can be a form of activism by highlighting the voices of marginalized people. He recounts his thesis advisor Kathryn Boswell, along with two supplementary advisors, as being wholly supportive, excited, and informative as they guided Caleb to the completion of his thesis and his successful application to the dual degree program at Vermont Law.
Though he graduated with a bachelor's degree last spring, Caleb still speaks with his thesis advisors almost weekly and got a head start on classes at Vermont Law School over the summer. He was also recently accepted to the 2020–2021 New Hampshire-Vermont (NH-VT) Schweitzer Fellowship, an interdisciplinary program centered on health-related community service and leadership development. As part of the fellowship, Caleb will team up with Vermont's Department of Corrections, Community Justice Centers, Vermont Law School's Center for Justice Reform, and various non-profits to implement re-entry practices for citizens after incarceration to properly address trauma, addiction, and factors that lead to recidivism.
His long-term goal is to enter a PhD program and to work as an anthropologist specializing in how prisoners reconcile their spirituality, identity, and future selves on a path to restorative justice. In the spare time he allows himself, he also runs a prison pen pal ministry program through the Episcopal Diocese of Vermont as part of his advocacy work.
As Caleb continues his studies at Vermont Law, he's working on a translation project of a Spanish poet he read at Simon's Rock with the aim of publishing parts of the collection in a journal this year.