STEM, Music, and a Bold International Perspective
Isabella Cho '17
A Global Citizen Expands Her Worldview in Great Barrington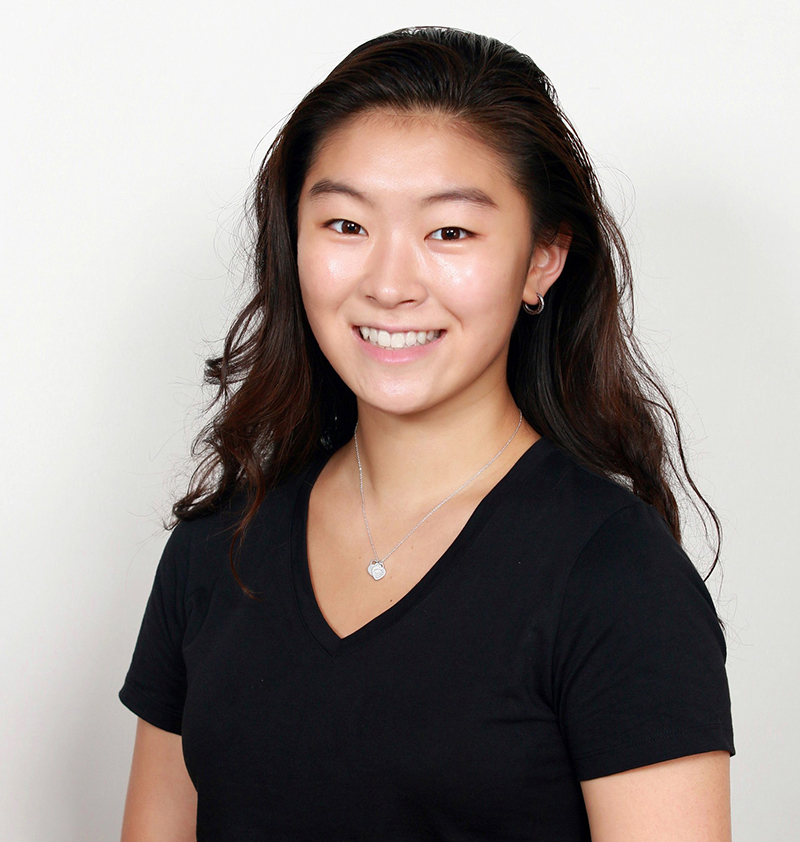 Living in Russia's cultural capital, St. Petersburg, was perfectly enjoyable for Isabella Cho. She was excelling academically and taking advantage of all the city had to offer—but she quickly became bored with the classes at her international high school.
Not convinced that staying in high school would suit her academic aspirations, by her sophomore year Isabella began looking into early college options. Her parents were supportive when she became interested in exploring Bard College at Simon's Rock, and they all decided to visit after she was accepted later that year.
A self-described "third culture kid," Isabella was born in the United States, but never felt a particularly strong connection to the country. She hadn't been back since the third grade, when she and her family moved to Seoul, South Korea, and well before she moved to Russia for high school.
After having spent her life in major cities across three continents, touring a small New England liberal arts college—geared towards young scholars seeking the same challenges she was—presented both a culture shock and a strong attraction. It was just what she'd been looking for.
A Cultural Symbiosis at Simon's Rock
Arriving at Simon's Rock later that summer, Isabella was excited to begin coursework for the Dual Degree: Columbia Engineering Program (BA/BS) with a focus on biomedical engineering. She was adjusting to the new culture at Simon's Rock—and that of the U.S. more broadly—and found herself seeking out her international peers. It wasn't long before she became head of the International Club.
On campus, Isabella occupied a hybrid role. A U.S. citizen with some early education on the east coast, she mostly had an international upbringing. Initially, she remembers bonding over feelings of homesickness with her International Club peers, but she soon understood that "students at Simon's Rock are so aware of what it means to be both an American and to not be an American." This helped to collapse barriers among domestic and international cohorts, and Isabella quickly began to appreciate the openness, support, and rapport of the tight-knit community, which she found lacking in the urban environment.

TECH and Music Meet STEM
As she acclimated to Simon's Rock, she felt a sense of freedom rarely afforded to science, technology, engineering, and mathematics (STEM) students, who typically have highly structured course loads. "Being at this small, intimate school, I realized I could do whatever I wanted. I took a lot of classes I normally wouldn't have taken if it didn't have this structure," Isabella recalls.
She credits the associate degree requirements—which expose students to a broad interdisciplinary curriculum during their first two years—with her discovery that she liked computer science, and was good at it. It became clear that she could combine two very different fields into one symbiotic area of study; computer science could be a tool with much to contribute to biomedical research.
With the help of her chemistry professor and advisor, David Myers, Isabella shifted her focus to computer science while staying on the path of the Dual Degree Program. She says that "for the STEM student, if you want to succeed, research is important, and you need to capitalize on internship opportunities. The hardest thing is to get into that scene and build up credentials to be able to do research at rigorous labs."
During her first summer at Simon's Rock, Isabella worked with faculty to research the biological origins of honey, where she also learned the ins and outs of operating in a professional lab setting. It would provide her the foundation to land an internship researching stroke therapy at a lab in Shanghai the following summer.
"I was really moved by [my professors'] commitment in me, and I see that everywhere at Simon's Rock."
Isabella attributes her success in Simon's Rock's rigorous STEM program to an unlikely source: the flute. A classically trained flautist, she didn't think she'd ever play the flute again after leaving Russia, but "I had my mom send it to me within about a week of arriving on campus."
She soon joined the Simon's Rock Chamber Orchestra and was encouraged to nurture her musical talents by Dr. Larry Wallach, the head of the music department. Her professors and mentors in the music department would even come to the other side of campus to meet with her in between classes. "I wouldn't have survived some of these STEM courses if I hadn't been challenged to compose repertoires," she notes.
Now at Columbia University to pursue the remainder of her engineering program, Isabella plans to audition for the Columbia Orchestra (with continued support from Dr. Wallach, who was once the orchestra's conductor).
Great barrington as a state of mind
When she's not practicing the flute, researching DNA microarrays, or reading up on the latest artificial intelligence and machine learning techniques in biomedicine, Isabella likes to keep active. She was involved in basketball, soccer, and volleyball at Simon's Rock, and became a certified swim instructor and lifeguard. After living in Great Barrington, she's also become comfortable getting her hands dirty, and has taken a liking to gardening and spending time outdoors whenever possible.
Reflecting on her growth at Simon's Rock, Isabella remembers calling her mom with an alarming update on the number of bugs, squirrels, and deer she saw upon arrival to campus that first summer. "I remember feeling very strongly that I didn't like nature—I wouldn't have voluntarily touched soil before Simon's Rock, but now I'm back in a city and I just want to go out and take a walk."
She recently planted flowers and a blueberry tree at her parents' house, and she still thinks of the sky full of stars that only seemed visible in Great Barrington.